Fra TV-en til datamaskinen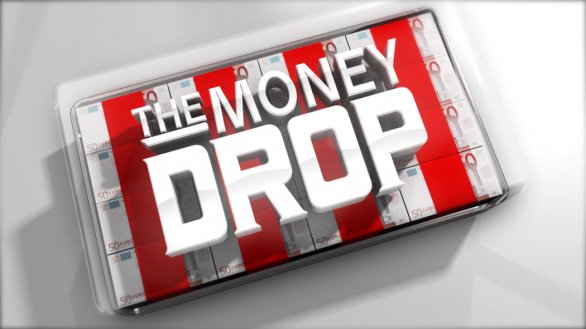 Dersom man så på TV på 90-tallet, kan man ikke ha gått glipp av det britiske TV-programmet Money Drop, som var blant de første til å dele ut store pengesummer mens million av tilskuere satt klistret foran skjermene hjemme i stua. Dessverre gikk programmet av luften etter hvert og seerne så seg nødt til å glemme hvor moro det var å se folk vinne gigantiske premier på noen få minutter. Heldigvis lever vi i fremtiden, en moderne tid da alt nytt er tilgjengelig for alle og enhver, mens gamle klassikere blir født på ny og tas varmt imot av både den yngre og den eldre generasjonen. Dette gjelder også The Money Drop – det actionfylte TV-programmet har blitt blåst til live av spillutvikleren Playtech, som er kjent for å produsere spennende spilleautomater med ulike temaer.
Grafikk og symboler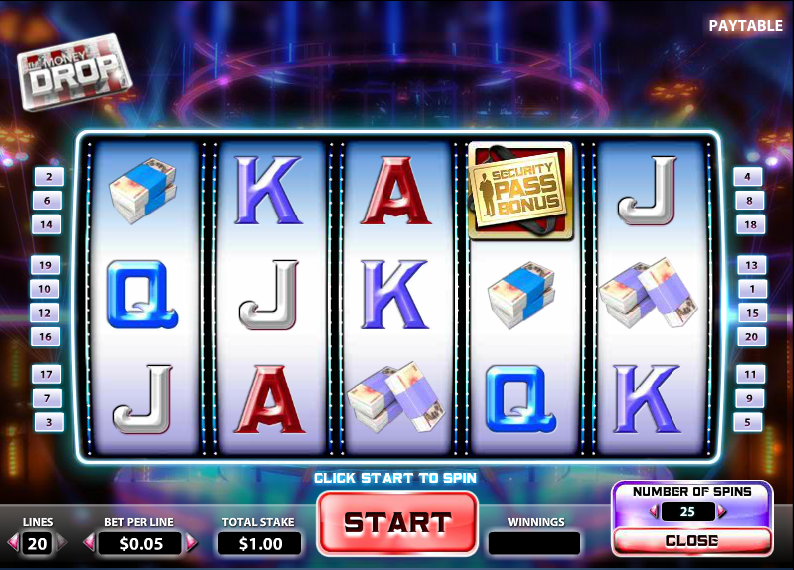 Nå kan man altså finne et nettkasino der Money Drop er å finne på listene over maskiner, og spørsmålet er om ikke den moderne Money Drop spytter ut penger i enda større omfang enn TV-programmet gjorde under sin storhetstid. Når du åpner spilleautomaten på datamaskinen, vil du straks kjenne igjen flere av symbolene – i hvert fall om du var en ivrig tilhenger av Money Drop på TV. Playtech har dog gjort samme feil som mange andre spillutviklere faller for. De har brukt en stor mengde kortsymboler som kompensasjon for sin manglende fantasi. Hvorfor ikke inkludere verten fra TV-programmet? Tilskuerne? Tegnene? Mikrofonen? Så lenge man er kreativ, kan man alltid unnslippe de gørr kjedelige kortsymbolene J, K, Q og A. Ellers har Playtech gjort en god jobb med Money Drop. Bakgrunnen ser ut til å være et bilde fra TV-programmet, med neonlys og lilla-blå farger. De beste kombinasjonene på spillet settes av ulike pengebunter – jo større bunke med penger du setter, desto høyere gevinst vil du innkassere. Lett og forståelig!
Klassisk nymotens
Spilleautomaten The Money Drop fra Playtech har et utseende som minner oss om fremtiden slik man så den på 90-tallet. Alt skulle være i jern, sølvfarger og rette linjer dominerte de aller fleste design. Dette speiles også av på Money Drop. Den ser klassisk ut for oss, men på 90-tallet hadde den vært regnet som noe ultramoderne. Fargene er rimelig sterke og symbolene friske og klare. Spilleautomaten har 20 gevinstlinjer over 5 hjul, noe som gjør det enkelt å følge med på de ulike kombinasjonene. Innsatsmulighetene er veldig brede – her kan man satse alt fra ei krone til flere tusen per spinn. The Money Drop har også to bonusspill man kan nyte, både gratisspinn og et skikkelig spill der du får prøve på deg skoene til deltagerne i det actionfylte TV-programmet.
Spille disse online casino
Spillets detaljer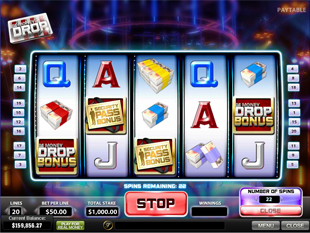 Gratisspinnene er, som alltid, den mest lukrative måten å tjene inn gode summer. Når Money Drop begynner å spinne av seg selv, er det bare å lene seg tilbake mens pengene triller inn på spillkontoen. Dessuten kan man tjene inn flere gratisspinn underveis og stikke av med virkelig gode summer. Utbetalingsraten på The Money Drop er veldig høy, noe man kunne gjettet så fort man så navnet. Spilleren får 12 gratisspinn om gangen, så tre slike runder er mer enn nok til å hoppe av glede. Så har man det andre bonusspillet, der man får gå ut i ringen og ta del i TV-programmet. Klarer du å gjette deg til riktig boks? Vil du klare å stikke av med den største premien, eller får du nøye deg med noen få tusenlapper? Kjenn spenningen stige og sommerfuglene flakse omkring i magen. Med wildsymbolene på riktig sted er The Money Drop en god maskin som passer for de aller fleste.
Tematiske spill tar over
De aller fleste nye spilleautomater som kommer ut, har et tema rundt seg. Maskiner som er helt standard blir glemt, de skyves under teppet mens fremtidens spilleautomater baner seg vei fremover. The Money Drop er verken det ene eller det andre. På den ene siden er det en tematisk spilleautomat med en høy utbetalingsrate, altså bør den bli rimelig populær. På den andre siden er det en klassisk, gammeldags automat som ikke kan skryte av noen særlige kule animasjoner eller noen spesielle funksjoner. Autospinn-funksjonen er den eneste man kan nevne.
Konklusjon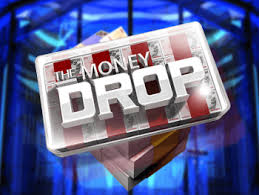 Bunker med penger ser fint ut, men hadde Playtech satt ordentlige fans av The Money Drop bak rattet, hadde de nok lagd en mye heftigere spilleautomat. Det store antallet gratisspinn gjør opp for mye av konservatismen man merker i The Money Drop, men vi savner animasjoner og detaljer som virkelig kunne satt prikken over i-en. Det meste man kan vinne er dog 1000 ganger innsatsen på ett spinn, så storspillere vil kunne nyte noen runder på The Money Drop. Ett spinn – en million. Høres ikke det bra ut?