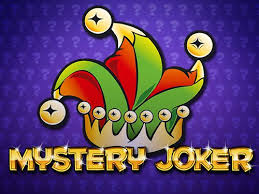 Mystery Joker er en spilleautomat som tydelig drar inspirasjon fra klassiske spilleautomater, i alle fall når det kommer til symbolene, men så har den også oppsettet til en klassisk spilleautomat. Det er med andre ord en sammensetning av de to mest populære formene for spill som man finner på nettkasinoer. Det er det svenske spillutviklerselskapet Play'n GO som står bak Mystery Joker. Play'n GO er et ganske godt etablert selskap innen spillutvikling og de står bak mange populære spill som er å finne på de ulike nettkasinoene. Mystery Joker er et av deres nyeste utgivelser og det gjenstår å se hvordan spillet blir tatt imot på det store markedet. Tross den klassiske inpirasjonen er det umiddelbart klart at den tekniske siden er moderne. Det er lagt på en god grafikk i spillet, noe som gir en fin spilleskjerm. I tillegg så er det et enkelt oppsett når det kommer til justeringer av innsatsen, og man har noen forskjellige spesialfunksjoner som kan dukke opp underveis i spillet. Det er rett og slett bare å sette i gang spillet og se hva man selv synes.
Spillets gang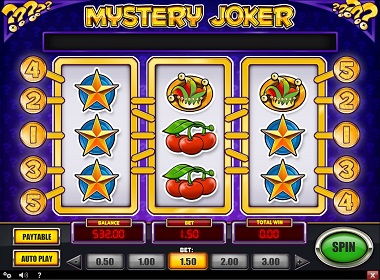 Som nevnt, så er inntrykket man får av Mystery Joker først og fremst at man spiller på en klassisk spilleautomat. Oppsettet man ser i spillet ligner trolig også mer på en enarmet banditt enn på en typisk online spilleautomat. Spillet består nemlig av tre hjul, tre rader med symboler og til sammen så har man fem innsatslinjer. Det er med andre ord et mindre oppsett enn det man pleier å ha i en vanlig spilleautomat. Innen man setter i gang å spille så må man justere noen ting. Det må jo så klart settes en innsats i spillet for at man skal kunne begynne å spille. Den som spiller Mystery Joker kan justere både innsatslinjene og hvor mye man ønsker å satse i spillet. Justeringene gjøres utrolig enkelt, da man har et oppsett med knapper nederst på spilleskjermen. Det første man kan justere er innsatslinjene. Man kan spille med minimum en innsatslinje aktivert, og på det meste ha fem innsatslinjer aktivert. Når man har fått satt ønsket antall innsatslinjer, så kan man se på innsatsen man ønsker å spille med. Nederst på spilleskjermen så finner man en rekke ulike innsatsverdier som man kan velge mellom. Det justeres enkelt ved å bruke pilene som går til høyre og venstre, og så trykker man bare på den innsatsen man ønsker å spille med. Innsatsen kan strekke seg på mellom 0,50 og opp til 100. Andre justeringer man kan foreta på spilleskjermen er at man kan bruke auto play-knappen, som gjør at spillet går av seg selv et visst antall runder. Man kan også justere lydnivået i spillet og sette opp ønskede snarveier via tastaturet man bruker. Når man er fornøyd med alt så er det bare å trykke på spinn og la spillet komme i gang.
Spilleskjermen og grafikken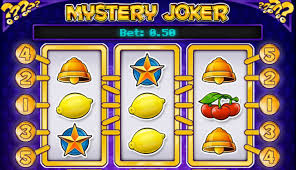 Spilleskjermen i Mystery Joker er virkelig flott å se på. Man har en flott mørk lilla bakgrunn som passer godt til alle de andre elementene i spillet. På toppen av spilleskjermen så finner man spillets logo, som er formet i blokkbokstaver og er i en knall gul farge. Under logoen så har man en smal skjerm som informerer om ulike gevinster man får underveis i spillet. Under denne lille skjermen så har man spillets hjul. Det er tre hjul totalt og de er rammet inn med en gul ramme. På hjulene så har man spillets symboler, som alle er i klassisk form. Det er blant annet stjerner, kirsebær, sitroner og gullbjeller. På hver side av spillets hjul så har man en oversikt over spillets innsatslinjer og de som er aktive vil da lyse opp. Nederst på spilleskjermen så har man spillets knapper, som er satt opp veldig nøytralt.
Spille disse online casino
Spesialfunksjoner i spillet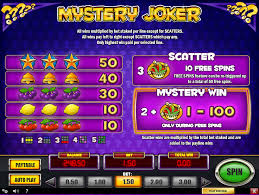 Utbetalingen med de vanlige symbolene i spillet er ganske lav. Den ligger på det meste på 50 mynter per linje. Det som har blitt satt inn for å livne opp spillet litt er gratisspinnrunder som blir aktivert av scattersymboler. Man trenger minst tre scattere på hjulene for å aktivere gratisspinnrundene. Scattersymbolet er i form av en jokerhatt. Man kan på det meste få 10 gratisspinnrunder på en omgang, men det er alltid mulig å gjenaktivere flere runder. Faktisk så kan man få 10 gratisspinnrunder opp til fem ganger i en spillerunde. Får man bare to scattere på hjulene så vil man ikke få noen gratisspinnrunder, men en mystisk bonusgevinst istedenfor.