Om spillet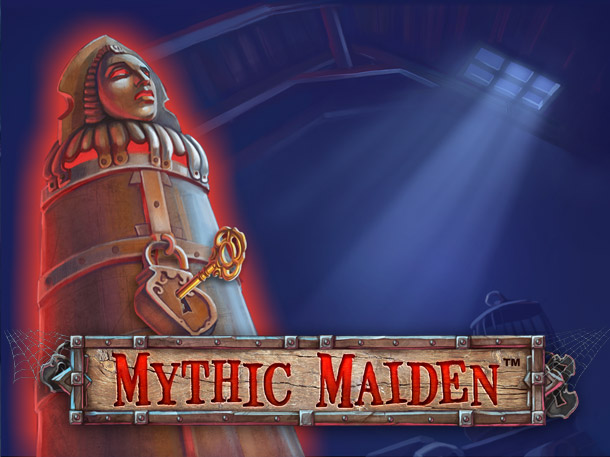 Til tross for det litt fredelige navnet, er Mythic Maiden en spilleautomat med skrekktema. Symbolene er skumle, og stemningen forsterkes av ulende vind, knirkende gulvplanker og andre bakgrunnslyder. Automaten har ingen bonusspill, men man kan vinne gratisspinn og multiplikatorer. Spillet er laget av Net Entertainment, som er kjent for å lage spill av god kvalitet. Automaten er lett å spille på, og kontrollene er enkle å bruke, også for en nybegynner. Dersom man spiller mye, kan man velge å spille med autospinn. Gratisspinnene spiller også av seg selv når man vinner dem, så da kan man bare lene seg tilbake og følge med på hva som skjer.
Spillets detaljer
Spillet har en teoretisk utbetalingsprosent på 96,6 %. Det betyr at spillerne kan forvente å vinne tilbake 96,6 % av pengene de satser. Dette er selvsagt gjennomsnittet basert på spill over lang tid. I perioder kan man både vinne mer og tape mer. Spillet er lite variabelt, det vil si at det har en høy utbetalingsfrekvens. De fleste gevinstene er små, men de kommer ganske ofte.
Symboler og grafikk
Symbolene i spillet er hoder, hodeskaller av et dyr, en bok med en jernneve, en giftig edderkopp og en kiste. Kortsymbolene fra 10 til ess er formet som rennende stearinlys. Spillet er laget for å være skummelt, og det passer spesielt godt rundt Halloween, selv om man naturligvis kan spille det hele året. Grafikken er god, men mange andre spill fra Net Entertainment har klarere og bedre grafikk. Grafikken er bra nok, men man er vant til å få det aller beste fra Net Entertainment, og derfor stiller man ekstra høye krav til spillene deres.
Spille disse online casino
Spesielle funksjoner
Det spredte symbolet viser to lyspunkter som går rundt i sirkel. Tre eller flere slike symboler hvor som helst på skjermen gir spillerne gratisspinn. Man vinner 10 gratisspinn med tre spredte symboler, 15 gratisspinn med tre spredte symboler og 30 gratisspinn med fem spredte symboler. Gratisspinnene kan gjenutløses. Wildsymbolet er en fullmåne som forvandles til en hodeskalle. Dette symbolet erstatter alle de vanlige symbolene og fullfører vinnerrekker, men det kan ikke erstatte de spredte symbolene. Alle vinnerrekker med wildsymboler gir tredobbel utbetaling.
Innsatser og utbetalinger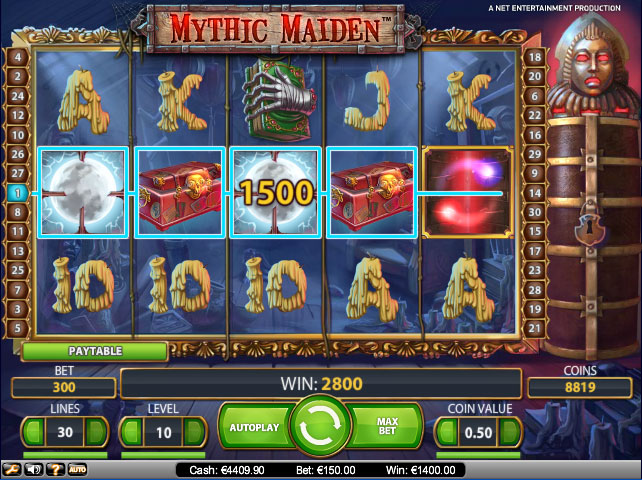 Man kan selv velge hvor mange gevinstlinjer man vil aktivere. Det er 30 linjer totalt. Myntverdien kan stilles, og man kan velge en verdi på 0,10, 0,20, 0,50, 1, 2 og 5 mynter. Man kan satse fra én til ti mynter per linje, altså maksimalt 300 mynter i den myntverdien man har valgt. Dette gjør at man kan spille enten med små beløp eller med store beløp, og slik tilpasse spillet til eget budsjett. Den største gevinsten i spillet er jackpotten på 75 000 mynter. Det inntørkede hodet er mest verdt av symbolene. Dette gir en gevinst på 2 000 mynter for fem like. Hodet gir også gevinst for to like, mens de andre symbolene krever tre like før man får gevinst. Alle vinnerrekker må starte på hjul 1, altså lengst til venstre på skjermen, og man får bare utbetalt den høyeste gevinsten per linje. Dyrehodeskallen gir en gevinst på 1 000 mynter, og er det nest mest verdifulle symbolet i spillet. Kortsymbolene gir smågevinster. Esset er mest verdt av dem, og gir 125 mynter for fem like. Dersom man vil ha en oversikt over vinnerrekkene og verdien av de ulike symbolene, bør man lese spillets utbetalingstabell. Her finner man også en forklaring på de ulike spesialsymbolene, og man finner en oversikt over alle gevinstlinjene.
Gratisspinn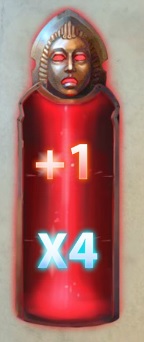 Ved siden av hjulene står det en statue. Denne åpner seg når man spiller med gratisspinn, og avslører hvilken multiplikator spinnene spilles med. Man kan vinne inntil 10x multiplikator, og man kan også vinne ekstra gratisspinn når statuen åpner seg. Multiplikatoren gjelder for alle gratisspinnene i den aktuelle runden, og multipliserer også vinnerrekker som inneholder wildsymboler.
Oppsummering
Mythic Maiden klarer å skape en skummel stemning ved hjelp av symbolene og lydeffektene. Dersom man leter etter et spill til Halloween, er dette det perfekte valget. Selv om symbolene og lydene er skumle, er det ingenting skummelt med selve spillet. Gevinstene kommer relativt ofte, og utbetalingsprosenten er god. Spillfølelsen er også god, og man kan nyte spillet hele året, ikke bare rundt Halloween. Spillet har ingen bonusspill. Det eneste ekstrainnslaget, er gratisspinnene. Spillet kan kanskje ikke måle seg med de aller beste spillene fra Net Entertainment. Grafikken kan virke litt uferdig. Men når det er sagt, er spillfølelsen god, og spillet vil garantert tilfredsstille alle som liker skumle spilleautomater og gjerne vil ha litt nifs stemning. Mythic Maiden finnes som mobilspill, slik at man kan nyte den skumle stemningen også på mobiltelefonene.