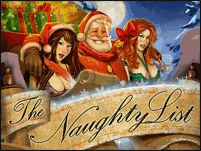 Har du vært snill eller slem i år? La oss håpe på det første, for dette er spørsmålet som stilles i den nye spilleautomaten The Naughty List. Spillet som ble lansert like før julen 2014 har jul som tema, og i sentrum står julenissen som prøver å avgjøre hvem som har vært snille nok til å fortjene julegaver. The Naughty List er produsert av det amerikanske selskapet Realtime Gaming, et selskap som har som tradisjon å lansere en ny juleinspirert spilleautomat hver gang julen nærmer seg, og i år er det blant annet reinsdyr, julegaver og lettkledde jenter som skal få oss i julestemning. Spillet har både wildsymbol, scattersymbol, mulighet for å vinne gratisspinn og ikke minst en progressiv jackpot.
Tema og utseende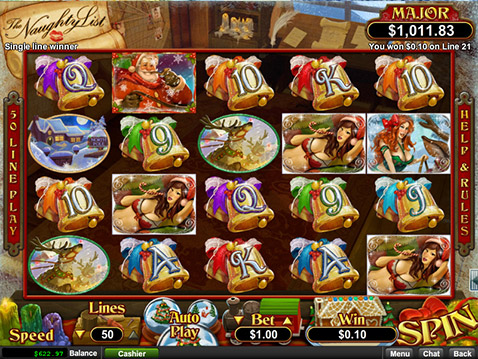 I The Naughty List skal det ikke mer enn et raskt blikk på skjermen før skjønner at det er juletiden det handler om. Bakgrunnen er det som ser ut til å være julenissens kontor. Spillet har 5 hjul og 4 rader, og blant de 20 symbolene vil du se for eksempel se reinsdyr, snødekkede hus, julenissen selv og bjeller dekorert med kortsymbolene 9, 10, J, Q, K og A. Menyen, som er nederst på skjermen, er dekorert med blant annet pepperkakehus og stearinlys. På hjulene vil du også finne to barmfagre og lettkledde piker, eller «naughty girls», som poserer i juleinspirerte omgivelser. Disse to er spillets høyest utbetalende symboler.
Innsatsnivåer og vinnermuligheter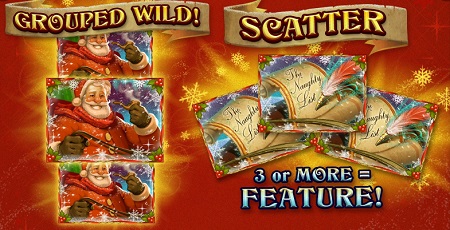 The Naughty List har hele 50 innsatslinjer du kan spille på, og du kan enkelt velge hvor mange du ønsker å aktivere ved å bruke pilene under overskriften «Lines» som du finner i menyen nederst til venstre på skjermen. Her kan du også velge myntverdi, altså hvor mye du ønsker å satse per innsatslinje. Du kan velge mellom 11 innsatsnivået fra $0.01 til $0.25. Maksimal innsats per snurr er altså $12.50. 5 av det høyest utbetalende symbolet, altså en av de to jentene, gir gevinst på 500 mynter. For «naughty girl»-symbolene vil du motta en liten gevinst for selv to like symboler på samme innsatslinje, mens for de øvrige symbolene trenger du minst tre like symboler fra venstre til høyre for å vinne. Vinnerlinjer med reinsdyret og de snødekkede husene gir maksimalt 200 mynter, mens linjer med kortsymbolene gir maksimal gevinst på mellom 100 og 150 mynter, avhengig av kortverdien (konge og ess gir høyest utbetaling). Oversikt over utbetaling for ulike kombinasjoner, samt regler og beskrivelse av de ulike innsatslinjene finner du ved å trykke på «Help & rules» helt til høyre på skjermen. Selv om ordinære vinnerlinjer gir en relativt beskjeden gevinst, er det likevel mulig å vinne betydelige summer, da spillet har to progressive jackpotter som vises øverst i det høyre hjørnet. Den minste jackpotten kan gå opp til $1000, mens den største kan vokse helt opp til $10 000. Begge jackpottene kan utbetales tilfeldig etter en hvilken som helst spinn, uansett innsats eller antall aktiverte innsatslinjer. Med en god dose flaks kan du altså vinne enorme summer selv om du ikke satser mer enn drøyt 50 øre!
Spille disse online casino
Bonusspill og spesielle symboler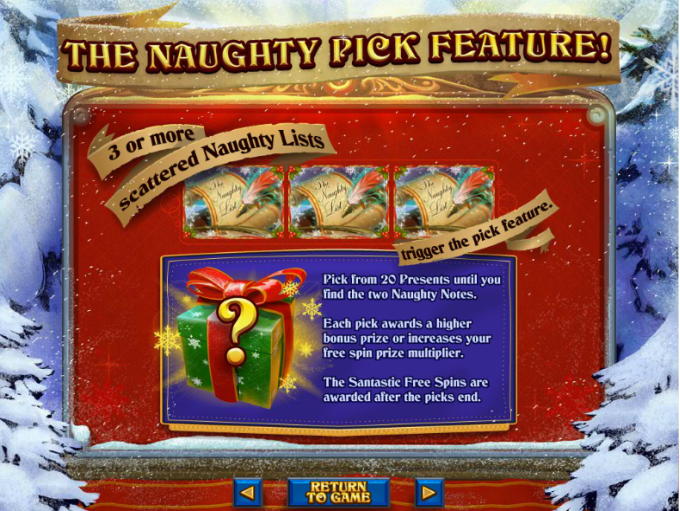 Julenissen er spilleautomatens wildsymbol og opptrer på hjul 2, 3, 4 og 5. Han kan erstatte et hvilket som helst av de andre symbolene, med unntak av Naughty List-symbolet, som er scattersymbol. Scattersymbolet fungerer slik at kombinasjoner av 3 eller flere scattere gir gevinst selv om de ikke befinner seg på samme innsatslinje. I tillegg til dette utløser scatterkombinasjoner bonusspillet «The Naughty Pick Feature». Under dette spillet blir de vanlige symbolene erstattet av 20 pent innpakkede julegaver som inneholder enten pengepremier, multiplikatorer eller en lapp der det står «You've been naughty». Målet under bonusspillet er å samle mest mulig mynter og multiplikatorer før du åpner 2 gaver med «You've been naughty»-lappen. Når dette skjer vil bonusspillet avsluttes, men du vil motta 5 av «the Santastic free spins» som plaster på såret. Under Santastic free spins vil hjulene inneholde flere wild- og scattersymboler enn under ordinære spinn, og multiplikatorene du fant under bonusspillet vil forhåpentligvis hjelpe deg å samle inn en pen gevinst. I tillegg til Naughty-Pick-spillet, kan har også Realtime Gaming inkludert et bonusspill som kan utløses tilfeldig når som helst. Dette kalles «Lucky Feature» og innebærer at du vinner 10 gratisspinn med en multiplikator på inntil 10x.
Oppsummering
The Naughty List er definitivt et underholdende spill. Spillet er lett å forstå og kombinasjonen av julestemning og en dose humor er en klar suksess. Bonusspillet er spennende og kan gi gode utbetalinger, og det faktum at du, uansett innsatsnivå, har muligheten til å vinne jackpotten etter en hvilken som helst spinn, bidrar til å holde pulsen oppe under hele spillet.