Om spillet

Nettkasinomarkedet vokser og vokser og det er stadig vekk noen nye automat som dukker opp. Disse spilleautomatene er det mange av og noen av dem kan rett og slett bli borte i mengden. Det er naturligvis mye press på spilleutviklerselskapene for å klare å skape temaer som klarer å skille seg ut og som ikke allerede er brukt opp. Samtidig er det i alle fall ett spill spillutviklerselskap som ikke ser ut til å slite med dette og det er Play'n Go. De har enda en gang kommet med en automat som har et utrolig originalt tema og som neppe har blitt sett på markedet tidligere. I tillegg klarer spillutviklerselskapet å vise at de kan det de driver med utrolig godt, for fremstillingen av automaten holder en ekstremt høy standard. Oily Business er en automat med et tema som handler om oljeselskapene eller oljenæringen generelt. Det ser ut til at temaet i spillet faktisk dekker alle de ulike aspektene som kobles til oljebedrifter. Alt i alt er hele spillet satt opp på en utrolig god måte og presentasjonen er svært god. Play'n Go kommer sannsynligvis til å trekke mange spillere nettopp på grunn av dette og det er mye som tyder på at dette spillet kommer til å være nok en suksess fra spillutviklerselskapet.
Grafikk i spillet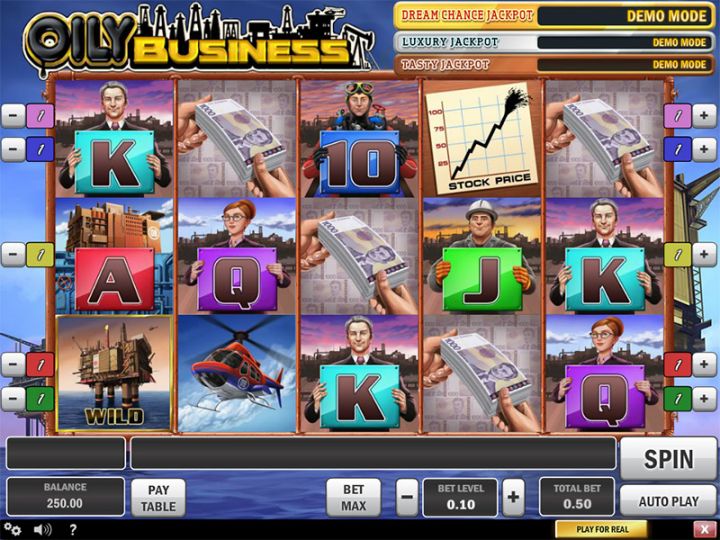 Grafikken i en automat er det som gir spilleren førsteinntrykket av hva man har i vente videre, og det setter en ganske rask standard for automaten. Play'n Go har tidligere fått mye ros for sin grafikk i spilleautomatene, i tillegg til mye ros for temaene som blir valgt. Grafikken i Oily Business er ikke noe annerledes enn de tidligere spillene fra spillutviklerselskapet. Det er utviklet med en utrolig god grafikk gjennom hele spillet og det er små detaljer som konstant er med på å løfte opp helheten i spillet. Temaet er godt presentert gjennom alle elementene i grafikken og det er tydelig hva spillutviklerselskapet ville med automaten. Bakgrunnen i spillet viser stort sett en blå himmel, men på begge sidene av skjermen kan man skimte det som trolig er en oljerigg. På toppen av spilleskjermen finner man spillets logo, som er formet på en utrolig god måte. Teksten er farget i sort og gul, og er satt i to forskjellige tekststørrelser. Over den minste teksten ser man flust av ulike maskiner som forbindes med oljearbeid. Nederst på spilleskjermen finner man spillets knapper. De er utformet helt enkelt mot en mørkeblå bakgrunn. Hjulene i spillet er rammet inn av et rør som går hele veien rundt. Symbolene er i store og klare bilder og alle er tilpasset tema. Noen av symbolene er utformet kun til tema, mens noen av de andre symbolene er hentet fra en vanlig kortstokk, men samtidig pyntet opp til å passe tema. Symbolene er blant annet formet som en pengebunke, et helikopter, en graf og oljetønner. De symbolene som er fra en kortstokk er i vanlige blokkbokstaver, som blir holdt oppe av arbeidere innen forskjellige deler av oljebransjen.
Innsatser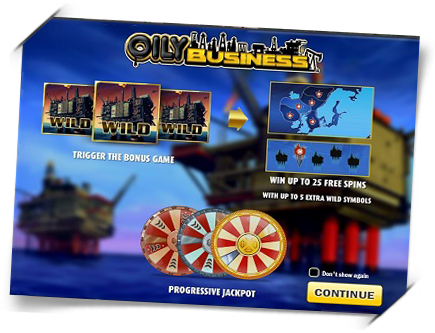 Oily Business er et spill som har ganske lave innsatsgrenser, men som likevel tilbyr en progressiv jackpot. Dette er noe som garantert kommer til å trekke mange spillere. Innsatsen i spillet velger man per innsatslinje, og man bruker knappene i spillet for å regulere dette nivået. På det laveste kan man ha en innsats på 0,01, mens på det høyeste kan man ha en innsats på 2. Det er flere funksjoner som kan brukes for å gjøre spillet enda enklere, blant annet autospinnfunksjonen. Den lar spilleren justere innsatsen sin først, for å la spillet gå av seg selv et visst antall runder.
Spille disse online casino
Spesialfunksjoner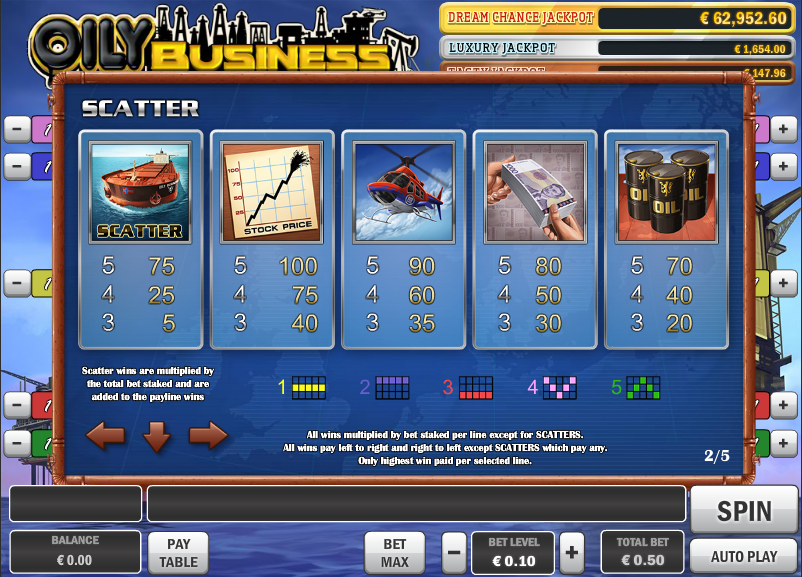 Som nevnt finner man en jackpot i spillet. Denne jackpoten er ikke en hvilken som helst jackpot, det er nemlig en progressiv en. Det vil si at verdien på jackpoten øker etter hvert som spillet blir spilt. Det er tre ulike jackpoter i spillet og de blir alle vunnet med samme symbol. Symbolet det er snakk om er scattersymbolet som er formet som et gullhjul. For tre scattersymboler spinner man bronsehjulet for tasty-jackpoten, for fire like sølvhjulet for luxury- og tasty-jackpoten og for fem scattersymboler spinner man gullhjulet for sjansen til å vinne dream chance- og luxury-jackpoten. Man kan også nå den største jackpoten ved å spille de to andre først. På hver endt spillerunde i Oily Business finner man i tillegg en gamblefunksjon som lar spilleren prøve å øke gevinsten som allerede er utdelt. Gevinsten kan man prøve å enten doble eller tredoble.