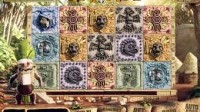 Kan Oonga Boonga være den videosloten med det merkeligste navnet noen sinne? Det er hvertfall vanskelig å prøve å komme på en videoslot med like rart navn som denne. Valget av navn kommer derimot ikke til å virke så rart som det høres ut når man først har kommet seg inn på spillet og faktisk begynt å spille og oppdager hva spillet handler om. I sentrum av spillet så er det nemlig en sprudlende figur som er hentet direkte ut fra jungelen. Denne figuren har en stor maske som dekker ansiktet og hodet til figuren er pyntet med store palmeblader.
Oonga Boonga er helt enkelt en høvding som hersker et eller annet sted i Afrikas jungel. Selv om han kan fremstå som litt skummel så er faktisk Oonga Boonga veldig snill og hjelpsom. Han er veldig oppmuntrende i løpet av spillet og jager også vekk plagsomme elementer, slik som apekattene som vifter med stjerten over spillskjermen. I tillegg til alt dette så deler også Oonga Boonga ut flotte gevinster.
Det går ikke ann å se bort fra at Oonga Boonga har en slående likhet med både Gonzo's Quest og Rook's Revenge. Det virker egentlig helt enkelt som at spillutviklerne vil prøve å bygge seg på den enorme fremgangen som Gonzo's Quest har hatt.
Grafikk og lyd
Oonga Boonga har en herlig 3D liknende grafikk og har animerte 3D effekter. I bakgrunnen av hjulene i spillet kan du skimte en by med hytter som er omringet av palmer. Til venstre for hjulene så kan du se selveste Oonga Boonga, som står og finner på ulike streker. Han er faktisk ganske så underholdende, denne høvdingen med det rare navnet.
Symbolene i spillet består av all slags bilder av ulike guder og lignende ting fra det man kan anta som å være fra Oonga Boongas kultur. Det er for eksempel bilder av fugler, reptiler og gullmasker. Sheriff Gaming pleier å legge ganske mye innsats på lyden i spillene, og Oonga Boonga er ingen unntak. I bakgrunnen av spillet hører man hele tiden en skjønn sammensetning av lyder fra ulike dyr i jungelen. Når man setter i gang hjulene eller når man vinner gevinster så kan man vente seg at høytalerne får jobbet litt.
Innsatser
Oonga Boonga bygger på samme spilleide som Gonzo's Quest. Hva dette først og fremst betyr er at symbolene ikke er direkte plassert på snurrende hjul, men at symbolene faktisk faller ned. Det betyr jo også da at det er et fast antall innsatslinjer, og i Oonga Boonga er det 20 stykk. Når det kommer til myntverdien og antall mynter per linje så er dette opp til enhver spiller. Laveste innsats ligger på 0,20 euro og høyeste innsatsen ligger på 100 euro.
Effekter og spesialsymboler
Oonga Boonga har fire spesialfunksjoner. For det første så er kavalkade hjul funksjon spesielle for denne videosloten. Hva denne funksjonen innebærer er det at de symbolene som blir en del av en gevinst eksploderer, da for å gjøre plass til nye symboler som faller ned. Dette pågår så lenge det fortsetter å skapes nye kombinasjoner som gir gevinster. Det er også en multiplikator i spillet, som begynner på ganger to etter første gevinst, og går så til ganger 3 og ganger 5.
Gratis spinn spillet bygges også på samme funksjon og går under navnet "gratis drop bonus". Gratis spinn blir aktivert når 3 symboler av gudebilde i gull vises på hjulene. Da får man 10 gratis spinn runder. I disse rundene gjelder også et helt nytt oppsett av symboler og det er også en høyere multiplikator i disse rundene. Hvis man har skikkelig flaks så klarer man å aktivere ekstra gratis runder under den første runden.
Bortsett fra disse to helt utmerkede funksjonene så har Oonga Boonga også en wild symbol. Wild symbolet i spillet kan erstatte alle andre symboler, bortsett fra de symbolene som blir aktivert eller dukker opp under gratis spinn spillet.
I tillegg til alt dette så får man også en ekstraordinær mulighet hvis man får en gevinst. Denne muligheten gir enhver spiller muligheten til å sette gevinsten sin på spill, og da få en sjanse til og faktisk doble gevinsten. Her kan man faktisk friste skjebnen opp til ti ganger for hver gevinst man vinner.
Sammendrag
Hvis man har prøvd Gonzo's Quest, og også kanskje prøvd ut videosloten Rook's Revenge, så kommer man til å kjenne igjen mye i Oonga Boonga. Det er ikke feil å påstå at Oonga Boonga er en ren kopi av disse to slottene, og det må ikke sees på som en ulempe.