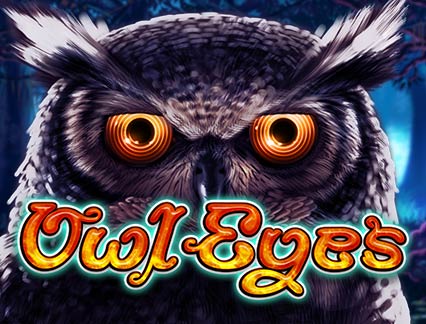 Owl Eyes er en av de nyeste spilleautomatene som nylig har ankommet på en rekke ulike online kasinoer. Det er spillutviklerne hos NextGen Gaming som står bak denne spennende spilleautomaten. Den har blitt satt sammen av fem hjul, fire rader med symboler og 50 spillelinjer som spillerne kan satse på. Owl Eyes har fått et ganske spennende og unikt tema. Den handler nemlig om en mystisk skog i tillegg til en rekke vakre fugler og andre dyr som bor der. Spillet har virkelig fått en eventyrlig stemning, noe som spillerne raskt vil kjenne med en gang de snurrer i gang hjulene. Owl Eyes har fått magiske og spennende lydeffekter som vil dukke opp med jevne mellomrom i løpet av spillets gang, i tillegg til flott grafikk. Alt dette sørger for at Owl Eyes har fått den perfekte atmosfæren, som samtidig gjør at spillerne vil leve seg enda mer inn i spillet. Dersom man virkelig vil oppleve automaten som den bør oppleves, bør man spille på denne på kvelden, eller i mørket samtidig som alle effektene er skrudd på.
Ulike funksjoner og innsatsalternativ i Owl Eyes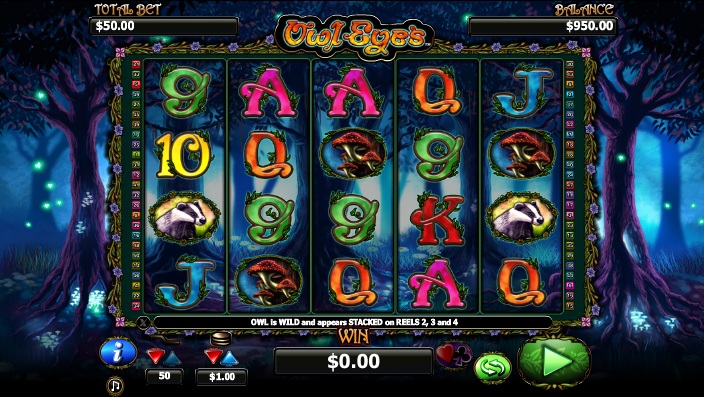 Owl Eyes har blitt laget med den samme teknologien som de andre spilleautomatene som NextGen Gaming står bak. Dette inkluderer blant annet den helt unike "true reel spin"-teknologien som vil gjøre at symbolene snurrer forbi på en helt annen måte på hjulene. Selv om denne spilleautomaten faktisk har fått dobbelt så mange spillelinjer som man vanligvis finner på de fleste spilleautomater, kan spillerne selv justere hvor mange av dem som skal aktiveres. Owl Eyes tilbyr nemlig en rekke ulike innsatsalternativ, hvor spillerne kan satse helt fra 0,01 og oppover til 2 som er spillets maksimale innsats. Owl Eyes har i tillegg til dette fått den populære funksjonen "Dobbelt Opp". Denne lyser opp og blir tilgjengelig for spillerne hver gang de får en gevinst, man må bare klikke på knappen. I denne funksjonen vil spillerne kunne doble eller til og med firedoble gevinstene sine ved at de gjetter farge og symbol på det vinnende kortet. Dette kan spillerne gjøre opp til fem ganger på rad.
Spillets symboler, bonuser og ekstrafunksjoner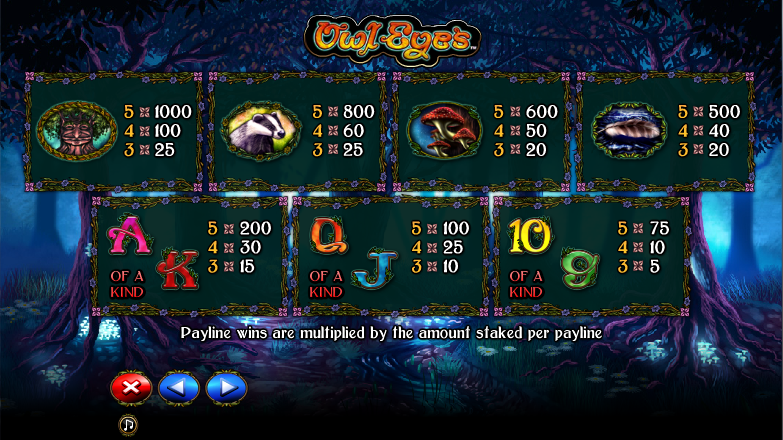 I Owl Eyes vil spillerne kunne se en rekke flotte symboler som passer perfekt inn i spillets tema. Spillets standardsymboler viser frem en rekke ulike dyr, planter og blomster som kommer fra den magiske og mørke skogen som spillet befinner seg i. Blant annet vil spillerne kunne se symboler sånn som røde sopp, et tre, en ugle, en grevling, en flott fullmåne, i tillegg til de vanlige spillekortsymbolene. Disse går fra ni og oppover til ess og har blitt laget i flotte sterke farger og blitt pyntet opp med noen planter som har vokst rundt dem. Disse standardsymbolene vil kunne utbetale gevinster opp til 1 000 mynter for fem like på en aktiv spillelinje. I tillegg til standardsymbolene i spillet, finnes det selvfølgelig to spesialsymboler som spillerne bør holde utkikk. Disse to symbolene viser fullmånen og er spillets scattersymbol, og det andre symbolet viser ansiktet til en ugle og er spillets wildsymbol. Scattersymbolet er det som kan aktivere spillets bonusrunde, mens wildsymbolet kan dukke opp stablet på de tre hjulene i midten av spillet. Dersom en vinnende kombinasjon inneholder wildsymbolet som viser uglen, vil gevinstene bli doblet. I tillegg til dette, vil spillerne kunne få flere stablede wilds på hjulene når man vinner bonusen. Det vil si at sjansene for at spillerne vinner enda større og bedre gevinster vil bli økt betraktelig. Når det kommer til bonusrunden i spillet, er dette en gratisspinn-funksjon. Det er denne funksjonen som scattersymbolet kan aktivere. Dersom spillerne havner i denne bonusrunden vil de få fem gratisspinnrunder og deretter vil spillerne kunne vinne en rekke flotte gevinster. Noen ganger kan til og med spredte scattersymboler som viser ugler dukke opp på flere hjul samtidig, da kan man jo bare tenke seg hva slags flotte gevinster som kan ende opp i spillekontoen sin.
Spille disse online casino
Konklusjon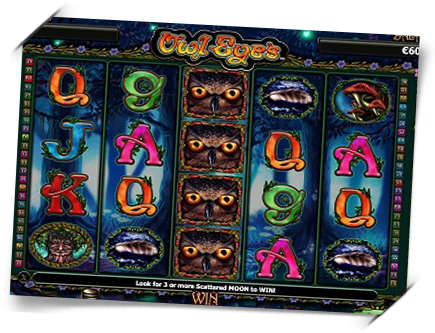 Owl Eyes er absolutt en spilleautomat som mange ulike kasinospillere kan få stor glede av. Den kan tross alt friste spillerne sine med en rekke ulike kombinasjoner, gratisspinn som gir flotte gevinster og avanserte funksjoner fra spillets spesialsymboler. Andre flotte fordeler med denne spilleautomaten er at spillerne har en rekke ulike innsatsalternativ de kan ta i bruk som gjør at spillet passer for en rekke ulike kasinospillere. I tillegg til dette er spillets laget på en utrolig brukervennlig måte og kan ikke minst by på flott grafikk og spennende lydeffekter.