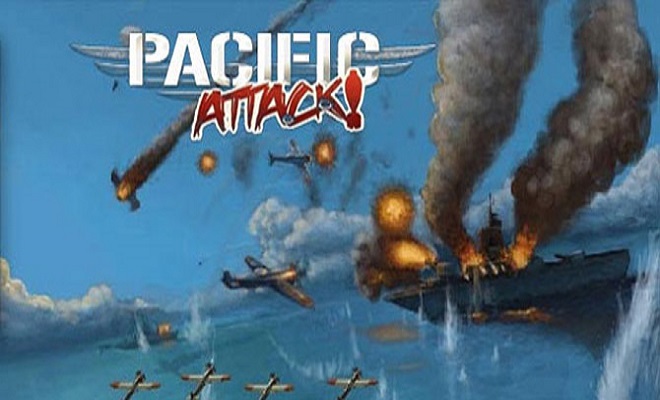 Historiske temaer har alltid vist seg å passe spilleautomater svært godt. De fleste kjører imidlertid et oldtidstema, mens få av dem baserer spillet på hendelser i moderne tid. Pacific Attack er i så måte et veldig kjærkomment bidrag på spillmarkedet. Her befinner vi oss ved Stillehavsfronten under andre verdenskrig, der USA og Japan utkjempet en svært dramatisk krigføring, som endte med atombombene i Hiroshima og Nagasaki. Jagerflyene spilte en helt avgjørende rolle her, og det er det som er temaet i Pacific Attack. Disse ble brukt både til å angripe militære installasjoner og til å bombe større områder. Alle som har hørt om det japanske angrepet på Pearl Harbour den 7. desember 1941 vet hva slags dramatikk som utspant seg i disse årene. Hvis du vil få følelsen av hvordan det var å være jagerflypilot i denne krigen samtidig som du prøver lykken på en spilleautomat, er dette definitivt et spill du bør prøve ut.
Fakta
Pacific Attack er utviklet av Net Entertainment. Her har vi fem hjul med 15 spillelinjer, noe som sikrer deg muligheten til å spille om flere vinnerkombinasjoner. Spilleautomaten kan gi deg gratisspinn, og det har bonusspill som er tilgjengelig når du har lykken med deg. Du kan også få med deg en solid jackpot. Den er på 5.000 mynter per mynt du satser per linje, så hvis du er villig til å satse kan du definitivt få råd til en ekstra ferie om du treffer jackpotten. Du kan satse mellom 0,01 og 60 $ hver gang du spinner, så her har du muligheten til å forme spillet etter hvilken innsats du er villig til å legge inn i spillet. Pacific Attack har også et wildsymbol og et scattersymbol. Siden spillet ikke har noen gamble-funksjon vil alle premiene komme rett inn på spillekontoen din. Dette må sies å være ganske bra, da du ikke vil bli fristet til å gamble vekk premien før du i det hele tatt har fått den.
Symboler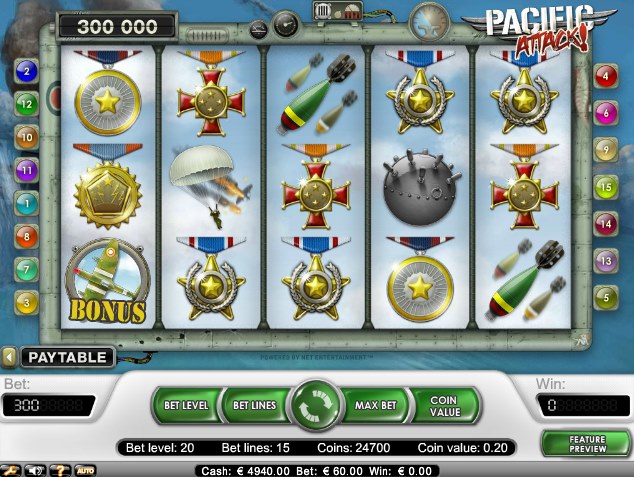 Et spill med Stillehavsfronten under andre verdenskrig og jagerfly som konsept, bør definitivt legge stor vekt på hvilke symboler de tilbyr spillerne sine for å komme i den rette stemningen. Her svikter ikke Pacific Attack på noe som helst nivå. Standardsymbolene er en mine, fallskjerm, bomber, medaljer og en militærhatt. Definitivt ting som hørte hjemme i livet til en jagerflypilot med andre ord. Wildsymbolet er et bilde av en pilot med påskriften «wild». Denne fungerer på samme måte som jokeren i en kortstokk ved at den kan representere hvilket som helst av standardsymbolene for å hjelpe deg til å få en mer komplett gevinstgivende kombinasjon. De eneste symbolene den ikke kan representere er bonus- og scattersymbolet. I tillegg til denne funksjonen vil to eller flere wildsymboler på en aktiv premielinje gi deg en ekstra pengepremie. Er du så heldig at du får fem piloter på rad, vil du få den allerede nevnte jackpotten, og om du har vært kald og satset en god porsjon penger i dette spinnet vil du få en meget pen gevinst utbetalt. Scattersymbolet er et svart/hvitt fotografi av en ung, attraktiv kvinne. Under andre verdenskrig var det vanlig at soldatene hadde slike bilder av kjærestene sine med seg mens de var ved fronten, og de spilte en svært viktig motiverende rolle i deres daglige liv. Det passer derfor svært godt som scattersymbol, da dette symbolet definitivt bør motivere deg når du ser det. Du får en ekstra premie når to av dem dukker opp samtidig hvor som helst på hjulene, og dersom du får tre, fire eller fem av dem vil du få henholdsvis 10, 20 eller 30 gratisspinn – der alle premier blir tredoblet. Bonussymbolet kommer i form av et fly. Får du tre av disse på en aktiv premielinje vil du få spille at bonusspill.
Spille disse online casino
Bonusspill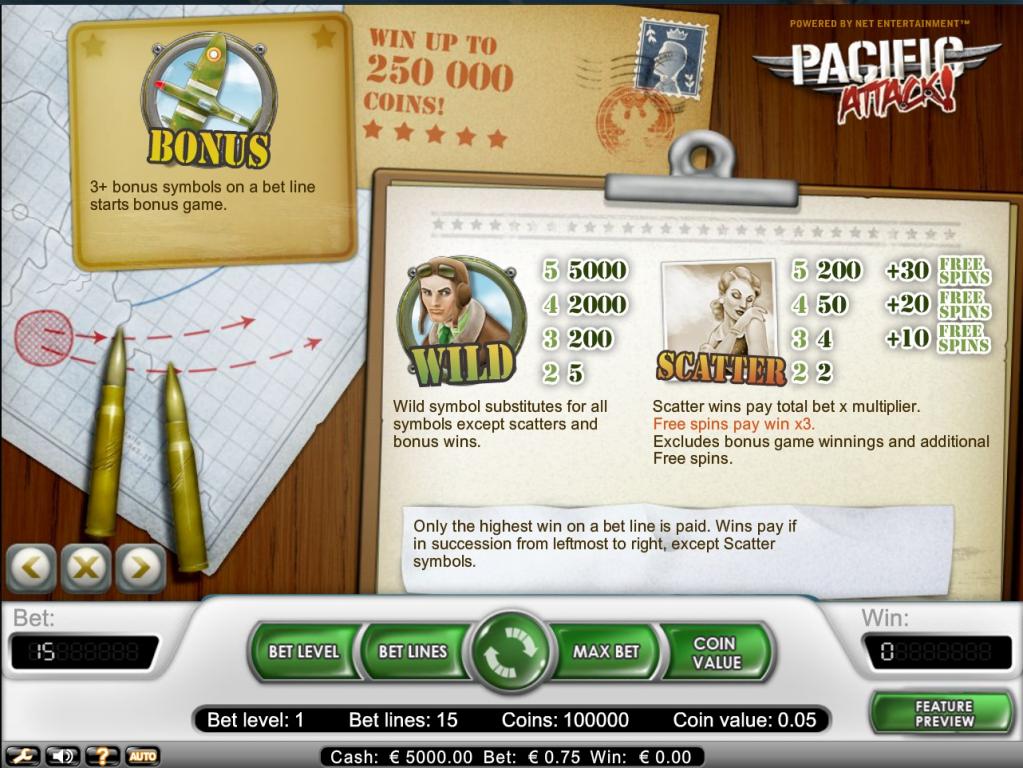 Bonusspillet er basert på det berømte brettspillet «Slagskip». Det er svært lett å spille. Du får opp et hav som er delt inn i flere like store firkanter. Målet ditt er å bestemme hvilke deler av havet du skal bombe, og forhåpentligvis treffer du noen av fiendens slagskip. Hvis du gjør en god jobb med bombene kan du få en bonus på opptil 250.000 mynter.
Anmeldelse
Man kan ikke unngå å være litt interessert i andre verdenskrig. Selv folk som påstår at de absolutt ikke er interessert i historie følger med en viss interesse når dette temaet kommer opp, og populariteten til filmer som «Saving Private Ryan», «Pearl Harbour» og «Enemy at the Gates» er i seg selv et solid vitnemål for denne interessen. At vi får en spilleautomat med et slikt tema skulle bare mangle. Her kan du mimre, underholdes og fascineres – samtidig som du kan vinne penger. Hva mer trenger man?