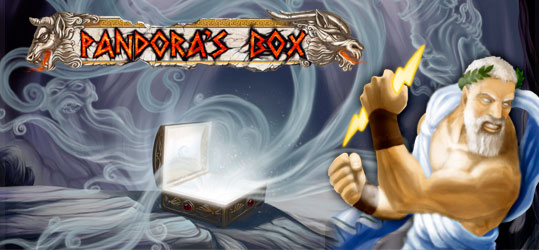 Selv om ingen lenger tilber de greske gudene eller tar mytene deres på ramme alvor, vekker den nysgjerrighet og fantasi også hos mennesker i våre dager. Blant de mest aktive på dette feltet finner vi utviklere av spilleautomater. Oldtiden er definitivt blant de mest populære temaene hos disse, og det kan kun være en grunn til det: Temaet fenger oss! Pandoras Box, utviklet av Net Entertainment, er definitivt et solid tilskudd til denne sjangeren. Her har de tatt utgangspunkt i én bestemt myte, noe som konkretiserer selve temaet for spillet og gjør det til noe som definitivt fortjener sin plass.
Myten
Pandora var ifølge gresk mytologi den første kvinnen på jorden. Når en gud som het Prometheus stjal ild fra himmelen, tok gudekongen Zevs hevn ved å tvinge Prometheus' bror Epimetheus til å gifte seg med Pandora. Som bryllupsgave fikk hun en eske. Denne fikk hun streng beskjed av gudene om aldri å åpne. Men gudene hadde også gitt henne nysgjerrighet, og til slutt tok denne overhånd. Hun åpnet den, og fant fort ut at den inneholdt all tenkelig ondskap. Før hun rakk å lukke esken, hadde ondskapen rukket å spre seg over hele verden.
Automaten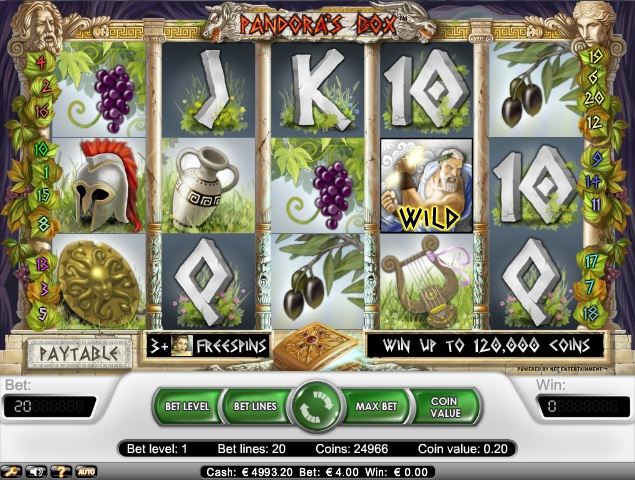 Panddoras Box har fem hjul og 20 spillelinjer, noe som gir deg mange muligheter til å vinne premier. Denne spilleautomaten har multiplikator, gratisspinn, scattersymbol, to wildsymboler og mulighet til å vinne en jackpot. Den høyeste jackpotten er på 10.000 mynter, og den nest høyeste er på 2.500 mynter. Verdien på myntene avhenger av hvilken innsats du har lagt i dem når du spiller. Du kan velge å legge den mellom 0,01 og 1 $, med en maksimumsinnsats på fire mynter per premielinje. Med 20 spillelinjer betyr dette at du kan satse opp til $80 per spinn. Som med så mange andre spill her i verden får du høyere premie jo mer du er villig til å satse.
Standardsymbolene
Siden antikkens Hellas er temaet for Pandoras Box, vekker flere av symbolene assosiasjoner rundt dette. Fra høyest til lavest premieverdi har vi disse symbolene: Hjelm, skjold, harpe, vase, druer og oliven. De vanlige kortstokksymbolene finner vi også på denne automaten: 10, knekt, dame, konge og ess. Den høyeste utbetalingen man kan få uten hjelp av spesialsymboler er på 750 mynter. Denne oppnår man ved å få fem hjelmer på en aktiv premielinje.
Spesialsymbolene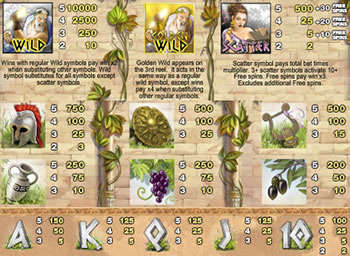 Det er spesialsymbolene som gjør spillet mest interessant. Mens standardsymbolene gir deg en jevn strøm av mindre premier, kan spesialsymbolene plutselig gi deg en større sum – om du har lykken med deg. Det som er mest spesielt og veldig interessant med Pandoras Box er at den opererer med to wildsymboler. Det vanlige wildsymbolet er Zevs, som fungerer som erstatning for alle andre symboler enn scatteren. Det vil si at Zevs hjelper deg til å danne eller forøke en aktiv premielinje der han dukker opp. Med andre ord er han en joker. Hvis du vinner en premie ved hjelp av dette wildsymbolet vil dessuten premien dobles, altså fungerer den også som multiplikator. Det er dette symbolet som gir deg en jackpot-utbetaling. Fire symboler gir deg en utbetaling på 2.500 mynter, fem symboler gir deg 10.000. I tillegg til det vanlige wildsymbolet har vi et spesialsymbol som kun finnes på hjul nummer tre. Det er også et Zevs-symbol, men dette er gyllent i fargen. Hvis denne hjelper deg å vinne en premie vil den gi deg en firedobbel premie, så hold utkikk etter denne! Scatteren er symbolisert ved den vakre Pandora som, ved nysgjerrighet og uflaks, har sluppet all ondskap ut i verden. Hvis du får tre, fire eller fem slike symboler, vil du vinne henholdsvis 10, 20 eller 30 gratisspinn. Ikke nok med at disse spinnene er gratis; men alle premier vil dessuten tredobles når du bruker disse. Her er det altså gode muligheter for at du kan komme til å trenge en større lommebok etter at du har spilt, dersom du har litt flaks med deg. Hvis du får to scattere får du også en mindre pengepremie.
Anbefaling
Det er en grunn til at de ulike oldtidssivilisasjonene er så populære temaer på flere spilleautomater på Internett. Teamet fenger oss, rett og slett, og de passer inn i en spillkontekst. Alle liker å drømme seg litt bort til de gamle sivilisasjonene, for selv om de er borte for godt, så liker vi å se dem for våre øyne igjen og igjen. Pandoras Box gir dessuten gode muligheter til å vinne fine premier, og du kan regulere størrelsen på disse ut ifra hvor mye du er villig til å satse per spinn. Med en rekkevidde på mellom 0,01 og 80 $ per spinn er dette et spill for alle spillernivåer og lommebøker.