Pirates Gold er en video slot spill med 5 hjul og 9 innsatslinjer, som er utformet i et klassisk format. Dette betyr at det er 5 hjul som spinner hvor det kan når som helst dukke opp vinnende kombinasjoner. Spillet fungerer slik at for hver mynt man legger til i innsatsen så aktiverer man automatisk en av innsatslinjene. Når hjulene stopper så vil datamaskinen automatisk sjekke for vinnende kombinasjoner langs alle innsatslinjene.
Bonusspillet i Pirates Gold gir ut gevinster på 10, 50, eller 100 ganger innsatsen man har satt på den vinnende innsatslinjen. Her skal man også prøve å senke fiendenes skip, treffe skipet med den gylne nøkkelen og så går man videre til det andre bonusspillet hvor man kan vinne ende mer. Her kan man prøve å stjele skatten fra en sjørøver, hvis man tør.
Pirates Gold spiller har mange av de klassiske innspillene som man forventer i et slot spill slik som scatter symboler, bonusspill i to ulike versjoner hvor man har gode sjanser for å vinne gevinster.
Innsatser
Pirates Gold videoslot spill kommer fra Net Entertainment. Spillet kan testes ut uten å satse penger, for og først se om spillet er noe man ønsker å legge penger i. Når man så begynner å spille for penger så er det satt et minimum innsats på 0,10 per innsatslinje. Her kan man også regulere det selv på mellom 1 og opp til 10 mynter per linje. Minimum innsats ligger som sagt på 0,10 og maks innsatsen ligger på 9,00 per linje.
Høyeste utbetaling i Pirates Gold ligger på 10 000 i kreditt per linjeinnsats. Alle utbetalinger og gevinster telles fra venstre til høyre på hjulene.
Symboler og spesialfunksjoner
Pirates Gold har mange ulike symboler som har ulik funksjon i løpet av spillet. Scatter symbolet i spillet er gullmynten med bilde av en sjørøver på. Denne fungerer slik at den kan dukke opp hvor som helst på hjulene i løpet av spillet, og den kan da bidra til at det blir en vinnende kombinasjon. Her er det om å få 3 eller flere slike symboler på linjene for å få noe gevinst.
Hvis man får 3 eller flere slik symbol spredt utover hjulene så er det også disse som vil aktivere bonusspillet i Pirates Gold. Da er det Pirates Gold Bonus Feature som vil bli satt i gang.
Når bonusspillet starter så vil det åpnes i en annen skjerm og her er det om å prøve å senke skipene til fiendene. Her bruker man en kanon hvor man skal prøve å treffe skipene, og man har da muligheten til å vinne 10, 50 eller 100 ganger innsatsen. For å sikte og treffe så har man enkelt en venstre og høyre knapp som man bruker til å regulere hvor man skal skyte. Hvis man er så heldig å treffe skipet med den gylne nøkkelen så vil man få aktivert Treasure Chest Bonus Feature.
Når Pirates Gold Bonus Feature er over så vil man bli tatt tilbake til det originale spillet og alle gevinstene man har fått i løpet av bonusrunden vil bli lagt til totalen.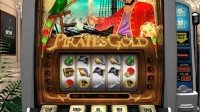 I Treasure Chest Bonus Feature skal man hjelpe en papegøye på å navigere seg frem til de ulike skattekistene. Her skal man bruke den gylne nøkkelen til å prøve å åpne de. Skattene er da gjemt i en hule. Her bruker man også venstre og høyre knapper til å navigere papegøyen og man trykker på Golden Key for å åpne den utvalgte kisten og for og da se hva slags skatt den skjuler.
Skattekistene har ulike skatter og er helt tilfeldige og her kan man få 100, 200, 500 eller 1000 ganger innsatsen man har på linjene i spillet. Når spillet er over så blir man automatisk tatt med tilbake til det originale spillet.
De uliker symbolene man kan se i spillet er skattekiste, sjørøver ring, skjell, kanon, papegøye, sjørøver sverd og sjørøver flagg.
Sammendrag
Pirates Gold har en klassisk utforming til en videoslot spill. Spillet har et godt og tydelig tema som er gjennomført fra alt til bonusspillene og til symbolene. Spillet har to gode bonusspill som er enkle å få aktivert og som kan gi gode gevinster. Spillet har Autoplay funksjon som gjør at man i forkant kan innstille ønsket innsats og antall runder også går spillet av seg selv. Pirates Gold har også en prøvefunksjon der man kan få testet ut spillet uten og selv måtte legge inn noe innsats først. Net Entertainment har nok en gang levert et godt spill.