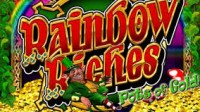 Hva er det som egentlig befinner seg i enden av regnbuen? Er det en krukke med gull? Ifølge legenden så er det nettopp det du kan finne i enden av regnbuen, en krukke med gull, og det er nettopp denne legenden Rainbow Riches er basert på. Rainbow Riches kommer fra spillutvikleren Barcrest.
Rainbow Riches byr på en hel del ulike bonusfunksjoner, men spillet mangler både scatters og gratis spinn runder. Hvis man absolutt vil ha sjansen på å vinne gratis spinn runder og også ønsker å ha muligheten til å vinne store gevinster med en kombinasjon på tre eller flere symboler, så kan det faktisk hende at man bør vurdere å spille et annet spill. Hvis man klarer å nøye seg med tre "scatterlignende" funksjoner, som hver og en av dem kan gi en gevinst på 500 ganger innsatsen, så bør du derimot ikke avfeie videosloten Rainbow Riches så altfor fort.
Tema og grafikk
Rainbow Riches har et fargerikt tema, der de klassiske symbolene fra pokerkortene er både pent designet og veldig godt animert. Her er det kun snakk om de høyeste kortene, altså fra A – 10. Blant de andre symbolene i spillet så kan du finne gullmynter, ønskebrønner, regnbuer og så klart et kort liten mann i grønn hatt. I bakgrunnen av spillet så kan man så vidt skimte en regnbue som ser ut til å være plassert over et sagalandskap. Lyden i spiller er kanskje ikke like imponerende som grafikken, men Barcrest har lykkes relativt bra med å skape et sprudlende lydbilde med mange gode effekter som er som hentet fra en tegnefilm om sagaer fra Irland.
Innsatser og alternativ
Rainbow Riches er en ukomplisert videoslot der de ulike innsatsalternativene er veldig tydelige. Spillet har totalt 20 innsatslinjer som er fordelt over 5 hjul og tre rader og her kan enhver spiller selv velge hvor mange av linjene som skal være aktive under spillingen. For å justere innsatslinjene så kan man enkelt trykke på pluss/minus knappene. Samme konsept gjelder også for innsatsen man ønsker å ha per linje. Her kan man satse mellom 0,01 og opp til 20 euro per rad, noe som da innebærer at laveste mulige innsats blir på 0,20 euro, og høyeste mulige innsats blir på 400 euro. Det finnes også et autospinn knapp tilgjengelig i Rainbow Riches. Denne kan brukes til og enkelt sette inn sine innstillinger og så la spillet gå av seg selv. For hver gang man trykker på autospin så går spillet automatisk i 50 runder. Man kan så klart avslutte autosnurren når man selv ønsker.
Spesialsymboler og effekter
Rainbow Riches er fullpakket med overraskelser i form av spennende bonusfunksjoner. Spillet byr på wild symboler og også logo symboler som kan komme stablede på hjulene. Det eneste som egentlig savnes i spillet er scatter symbolene og gratis spinn rundene.
Wild symbolet fungerer slik wild symbolet pleier, nemlig at den kan erstatte alle andre symboler, og er dermed med å øke vinnersjansene. I Rainbow Riches så er det derimot 3 ulike bonussymboler som wild symbolet ikke kan erstatte.
De tre ulike bonusfunksjonene går under navnene Wishing Well, Pots of Gold og Road to Riches. Wishing Well er et enkelt pek og klikk spill der man skal trykke på ulike ønskebrønner for å avdekke eventuelle gevinster. Høyeste gevinsten her er på 500 ganger innsatsen. Funksjonen aktiveres når man får minst 3 symboler som viser ønskebrønnen på hjulene.
Road to Riches når tre eller flere symboler i form av en liten grønn irsk mann dukker opp på hjulene. I denne bonusfunksjonen presenteres man for et lykkehjul med ulike gevinster av ulike størrelser. Med litt flaks så kan man også her vinne så mye som 500 ganger innsatsen.
Pots of Gold er potensielt den mest lukrative bonusfunksjonen i Rainbow Riches. Den er faktisk også den minst kompliserte av de tre nevnte. Når tre gullkrukker viser seg på hjulene så får man se krukker fylt med rikdom snurre rundt på skjermen. Symbolene av gullkrukkene trenger ikke å være samlet for at denne skal bli aktivert. Spillet går videre ved at det vil plasseres en pil på en tilfeldig krukke, som da utgjør din gevinst. Her så er det en minstegevinst hvor man alltid vinner minst 50 ganger innsatsen sin og man kan også her vinne opp til 500 ganger innsatsen man har lagt i spillet.
Sammendrag
Rainbow Riches går kanskje inn i mengden med videoslot spill med irsk tema, men Barcrest har likevel klart å skape et spill som skiller seg litt ut av mengden.