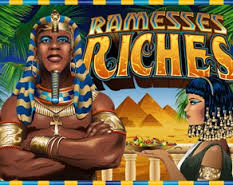 Ramesses Riches spilleautomat er utviklet av Microgaming. Microgaming er en av de mest anerkjente spillutviklerne på nettet, og er kjent for å lage spill av god kvalitet. Ramesses Riches har fem hjul og 20 gevinstlinjer, og ikke overraskende handler spillet om de gamle faraoene. Derfor dukker det også opp en mengde egyptiske symboler på hjulene, som papyrusruller, en svart katt og et Horusøye, i tillegg til en vakker kvinne og de klassiske kortsymbolene fra ni til ess. Faraoen er spillets jokersymbol, og dette symbolet kan erstatte andre symboler for å fullføre vinnerrekker. Når faraosymbolet er en del av en vinnerrekke, blir gevinsten doblet. Det spredte symbolet er den gylne Livets Nøkkel. Disse symbolene trenger ikke å være på samme gevinstlinje for å gi utbetalinger, derav navnet spredte symboler. De kan være spredt utover og likevel telle med. Med tre eller flere spredte symboler hvor som helst på skjermen, vinner man både en gevinst, og man får utdelt gratisspinn.
Innsatser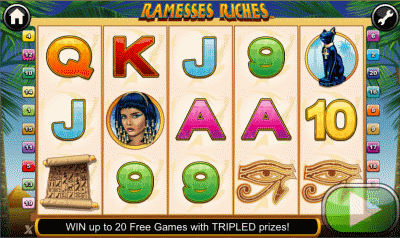 Spillerne velger selv hvor mange av gevinstlinjene de vil aktivere i Ramesses Riches. Man kan også velge myntverdien man vil spille med. Det er helt greit å bare spille med én aktiv gevinstlinje, dersom man foretrekker det, men man får bare utbetalt gevinst for vinnerkombinasjoner som dukker opp på en aktiv gevinstlinje. Dersom man har et lite spillbudsjett, er det som regel bedre å spille med lav myntverdi og aktivere alle gevinstlinjene. Da har man flere vinnersjanser enn dersom man velger en høy myntverdi og bare satser på én linje. Spredte symboler teller med også hvis de dukker opp på en linje som ikke er aktivert.
Myntverdien i Ramesses Riches kan stilles fra €0,01 til €10,00, så man har mange innsatsmuligheter å velge blant. Man kan spille med inntil 20 kreditter per spinn, som tilsvarer €200. Eller man kan velge en lavere innsats. Der er like morsomt å spille med små innsatser som med store innsatser, og det er mindre irriterende å tape småpenger enn å tape større beløp.
Spill på disse online casinoene
Utbetalinger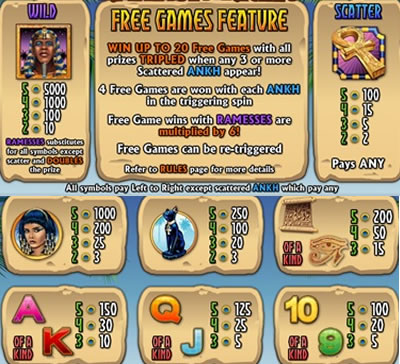 Faraosymbolet er mest verdt i dette spillet. Med fem slike symboler på samme gevinstlinje, vinner man hele 5000 mynter. Faraosymbolet gir 1000 mynter for fire like, 100 mynter for tre like og 10 mynter for to like. Det spredte symbolet (nøkkelen) gir også utbetaling for minst to like. Disse symbolene teller uansett hvor de dukker opp på skjermen. De spredte symbolene gir ikke vanlige myntgevinster. I stedet får man en gevinst ganget med innsatsbeløpet. Man får 100 ganger innsatsen for fem spredte symboler. Dette er en fin premie, men det spredte symbolet deler ut gratisspinn i tillegg, så man får muligheten til å vinne enda mer dersom man er heldig.
Den vakre kvinnen er det nest mest verdifulle symbolet i spillet. Også dette symbolet gir utbetaling for bare to like, og med fem kvinnesymboler på samme linje, vinner man 1000 mynter. Den svarte katten gir 250 mynter for fire like, mens papyrusrullen og øyet gir 200 mynter for fem like. Katten gir utbetaling for to like, men symbolene med lavere verdi gir bare utbetaling for tre, fire eller fem like. Kortsymbolene deler ut smågevinster. Man kan vinne inntil 150 mynter for fem like kortsymboler (ess og konge). For en komplett liste over symbolene og gevinstene de kan gi, bør man lese spillets utbetalingstabell.
Gratisspinn
Man vinner alltid fire gratisspinn for hvert spredte symbol som dukker opp. Man får bare tildelt gratisspinn dersom det er minst tre spredte symboler på skjermen samtidig, men disse symbolene teller med uansett hvor på skjermen de er. Med tre spredte symboler får man 12 gratisspinn. Fire spredte symboler gir 16 gratisspinn, og fem spredte symboler gir 20 gratisspinn. Når man spiller med gratisspinn, er alle gevinstene tredoblet, derfor kan man sikre seg ekstra gode utbetalinger. Dersom man får fem faraosymboler mens man spiller med gratisspinn, blir gevinsten tredoblet. Da vinner man altså 15 000 mynter, som er spillets jackpot. Hvis man får vinnerrekker med jokersymbol mens man spiller med gratisspinn, får man hele 6x multiplikator.
Oppsummering
Ramesses Riches er basert på et klassisk tema med faraoer og egyptiske symboler. Spillet er vellaget og spillfølelsen er god. Man kan vinne gratisspinn med tredobbel gevinst, og jokersymbolene dobler også alle utbetalinger under gratisspinn. Det vil si at vinnerrekker med jokersymboler gir hele 6x innsatsen under gratisspinn. Ramesses Riches passer for alle som liker egyptiske tema, men spillet passer selvsagt like godt for spillere som bare liker gode automater. Innsatsene kan varieres slik at spillet både passer for nybegynnere og for storspillere som gjerne vil spille med større beløp.