Rapunzel´s Tower er en spilleautomat fra spillutviklerne hos Quickspin. Spillet er basert på eventyret om Rapunzel, og hovedpersonen selv står i et tårn ved siden av hjulene. I bonusspillet skal spillerne hjelpe prinsen med å redde henne, og Rapunzel står tålmodig og venter på at helten skal komme klatrende opp i tårnet. Når hun tror det er en sjanse for å bli reddet, lyser ansiktet hennes opp, men når ingenting skjer, blir hun skuffet igjen. Dette spillet kan by på en tilleggsfunksjon som gir litt økte vinnersjanser. Spillerne har muligheten til å legge inn en ante, et ekstra innskudd, som utløser et spesialinnslag dersom tre eller flere wildkort dukker opp samtidig. Spesialinnslaget garanterer gevinst når dette skjer, men man må altså betale ekstra for å aktivere innslaget.
Symboler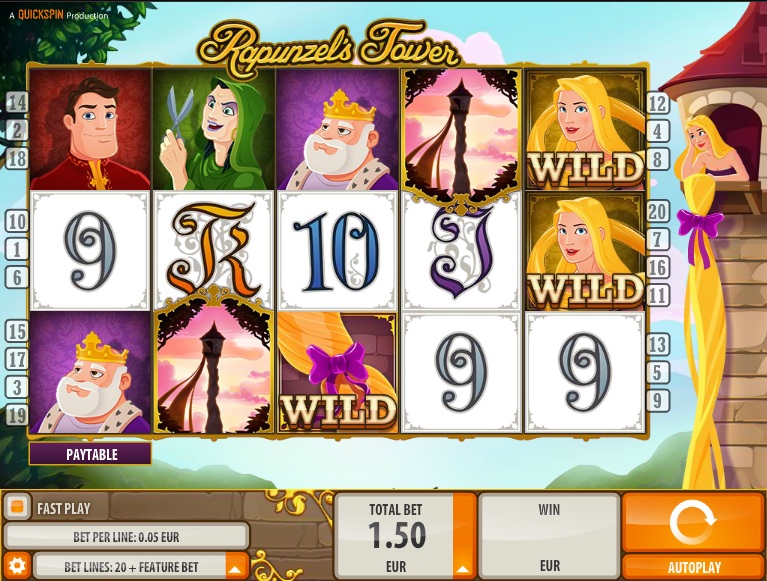 Symbolene i spillet er en prins, en heks, en konge og en dronning. I tillegg dukker de vanlige kortsymbolene opp, og i dette spillet er symbolene fra 9 til ess med. Det meste man kan vinne med kortsymbolene, er 125 mynter for fem ess eller fem konger. Selv ikke de mer verdifulle symbolene gir mer enn maksimalt 200 mynter for fem like. Derfor kan man ikke forvente storgevinster når man spiller på denne automaten. Man får en full oversikt over gevinstene i spillets utbetalingstabell. Det er lurt å sjekke utbetalingstabellen før man spiller, men man trenger selvsagt ikke å holde orden på vinnerrekkene selv. Spillet registrerer alle vinnerrekker automatisk, og deler ut gevinsten.
Spesielle symboler
Spillet har to wildsymboler. Det vanlige wildsymbolet viser Rapunzel, og dette symbolet kan erstatte andre symboler for å danne vinnerrekker. Bonuswildsymbolet viser Rapunzels hår, og tre av disse symbolene gir en garantert gevinst dersom man har betalt en ekstra innsats. Det spredte symbolet (scatter) viser tårnet der Rapunzel er fanget. Med tre spredte symboler hvor som helst på skjermen, får man tildelt gratisspinn. Man vinner 10 gratisspinn, og gratisspinnene kan gjenutløses mens man spiller de man allerede har vunnet. Gratisspinnsymbolene finnes bare på de tre midterste hjulene (hjul nummer 2, 3 og 4).
Spille disse online casino
Bonusfunksjon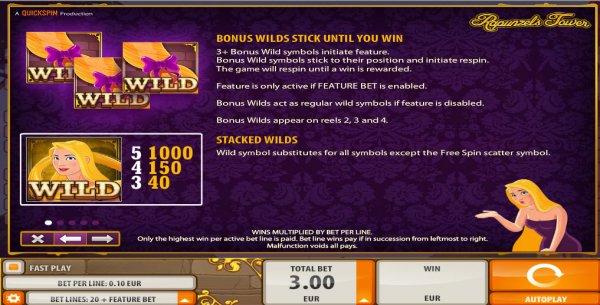 Dersom man betaler litt ekstra, kan man aktivere et ekstrainnslag. Man må aktivere alle gevinstlinjene for å få med ekstrainnslaget, og man må betale minimum €0,30 per spinn, i stedet for minimum €0,20 per spinn dersom man aktiverer alle linjene uten å aktivere ekstrainnslaget. Man betaler altså 50 % ekstra per spinn, men til gjengjeld får man litt større vinnersjanser. Ekstrainnslaget blir aktivert dersom man får tre bonuswildsymboler (Rapunzels hår). Da blir bonuswildsymbolene limt fast til posisjonene sine, samtidig som resten av symbolene spinner på nytt. Automaten fortsetter å spinne helt til man vinner noe. Man er altså garantert en gevinst i ekstrainnslaget, men gevinstens størrelse kan selvsagt variere. Bonuswildsymbolene finnes bare på hjul 2, 3 og 4.
Innsatser og oppsett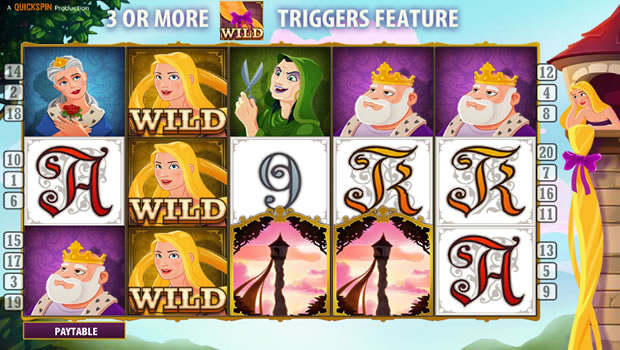 Spillet har totalt 20 gevinstlinjer. Spillerne kan selv velge hvor mange linjer de vil aktivere, men vinnerrekker som dukker opp på en inaktiv gevinstlinje gir ikke utbetaling. Derfor lønner det seg som regel å aktivere alle linjene, og heller velge en lavere myntverdi. Man kan velge en totalinnsats som dekker alle linjene man har aktivert. Innsatsen er fra €0,01 til €10 per linje. Den minste totalinnsatsen man kan gjøre, er €0,01 for én aktiv linje, og den største totalinnsatsen er €200 per spinn. Spillet har ingen progressiv jackpot. Den største gevinsten man kan vinne, er 1.000 mynter for fem symboler av Rapunzel.
Gratisspinn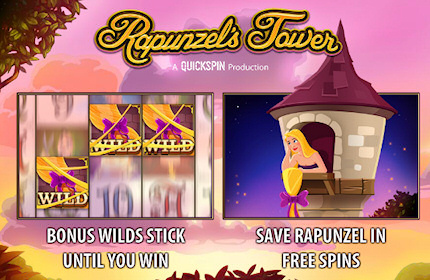 Tre spredte symboler hvor som helst på skjermen, betyr at man vinner gratisspinn. Disse spilles med et ekstrainnslag ved siden av det vanlige spillet. Når spillerne får bonuswildsymboler mens de spiller med gratisspinn, får prinsen klatre oppover tårnet. Samtidig vinner spillerne flere gratisspinn. Hvert bonuswildsymbol betyr at prinsen kommer ett skritt oppover. Etter 10 skritt vinner spillerne to nye gratisspinn, etter 15 skritt vinner man enda et gratisspinn, og etter 20 skritt vinner man ytterligere to gratisspinn. Dersom prinsen klarer 25 skritt oppover tårnet, vinner spillerne to gratisspinn og en 2x multiplikator på de gjenværende spinnene.
Oppsummering
Rapunzel's Tower er en morsom og fargerik spilleautomat med eventyrtema. Ekstrainnslaget gjør at man får flere vinnersjanser. Bonusspillet med prinsen som klatrer oppover tårnet under gratisspinnene er også morsomt. Selv om det koster litt mer for ekstrainnslaget, er minsteinnsatsen på €0,30 per spinn fortsatt forholdsvis rimelig, slik at de fleste har råd til å prøve noen spinn. Spillet passer for alle som liker eventyr, og grafikken er klar og tydelig. Gevinstene er ikke de aller største, men spillet er likevel underholdende. Quickspin har klart å gjenskape mye av magien fra eventyret, både i symbolene og i bakgrunnsbildet på skjermen.