Tema, oppsett og innsats
Reel Steal er en spilleautomat fra det svenske selskapet Net Entertainment. Spillet har fem hjul, tre rader og ni gevinstlinjer. Spillet handler om en gjeng med skurker som prøver å stjele ulike verdisaker. Spillerne kan velge innsatsnivå, antall linjer og myntverdi. Myntverdien kan stilles fra 0,01 til 0,50, og man kan satse fra én til ti mynter per linje. Dermed har spillerne store variasjonsmuligheter, og alle kan velge innsatsbeløp etter sitt eget spillbudsjett. Spillets grafikk er stilig og musikken passer til temaet. Musikken minner litt om de gamle gangsterfilmene, men ettersom det samme temaet spilles igjen og igjen, kan man bli litt lei av det i lengden. Bortsett fra det, er spillet virkelig både morsomt og underholdende. Skurkene ser virkelig ut som ekte, gammeldagse skurker skal se ut, og det er fristende å stikke av med en av de verdifulle gevinstene i spillet.
Symboler og utbetalinger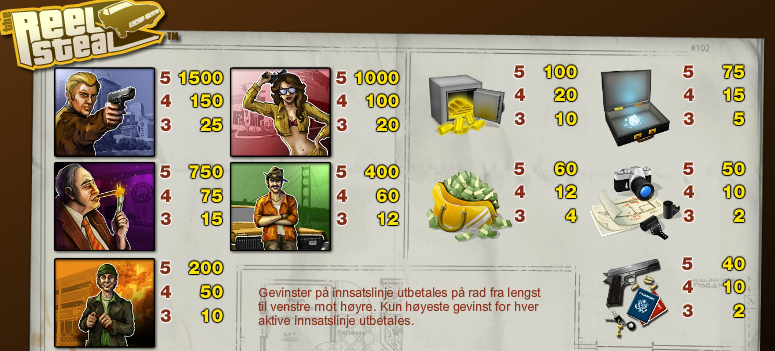 Det er ingen klassiske kortsymboler i dette spillet. I stedet er det ulike gjenstander som betaler ut smågevinstene. Disse gjenstandene inkluderer en safe, en koffert, en veske med penger, et kamera, og en pistol med dokumenter. De mer verdifulle symbolene i spillet er ulike forbrytere. Mannen med pistol er det mest verdifulle symbolet, og gir 1.500 mynter for fem like. Den kvinnelige skurken gir 1.000 mynter for fem like. Man finner en komplett oversikt over symbolene og gevinstene i spillets utbetalingstabell. Det er ingen progressiv jackpot i spillet, men den største mulige gevinsten er på 375.000 mynter. For å ha sjanse til å vinne den største gevinsten, må man spille med maksimumsinnsatsen.
Spesialsymboler

Spillets wildsymbol er en gul bil. Dette symbolet fungerer som vanlige wildsymboler, ved at det erstatter andre symboler og dermed kan fullføre vinnerrekker som ellers mangler et symbol. Dersom wildsymbolet er med i en vinnerrekke, femdobles gevinsten. Da får man altså utbetalt fem ganger så mye som det som er oppgitt i utbetalingstabellen. wildsymbolene femdobler bare gevinsten for vinnerkombinasjoner de er en del av. Dersom man vinner på andre rader under samme spinn, og wildsymbolet ikke er med i denne vinnerrekken, blir ikke disse gevinstene femdoblet.
Spille disse online casino
Det spredte symbolet er en bombe. Dette symbolet gir utbetaling dersom minst to av dem dukker opp hvor som helst på skjermen. Spredte symboler trenger altså ikke å være på samme gevinstlinje for å gi gevinst. Gevinsten man vinner for to eller flere spredte symboler er ikke en myntgevinst. I stedet får man utbetalt innsatsen multiplisert et visst antall ganger. Med fem spredte symboler på skjermen, vinner man hele 100x innsatsen. Fire spredte symboler gir 15x innsatsen, noe som også er en fin gevinst. Som i de fleste spilleautomater, får man bare utbetalt gevinst for vinnerrekker som starter ytterst til venstre, på hjul 1, og man får bare utbetalt én gevinst per linje. Alle vinnerrekker må gå fra venstre mot høyre. Tre like symboler loddrett gir ingen gevinst.
Gratisspinn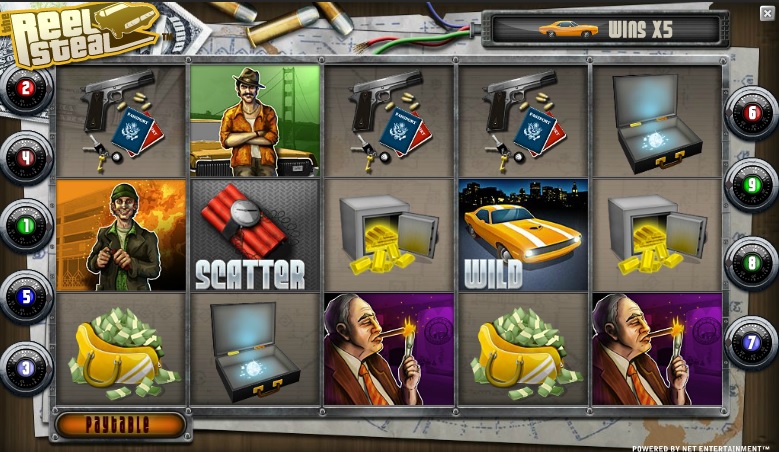 Tre eller flere spredte symboler betyr at man vinner gratisspinn. Tre spredte symboler deler ut 15 gratisspinn, fire spredte symboler deler ut 20 gratisspinn og med fem spredte symboler får man utdelt hele 25 gratisspinn. I tillegg til dette, gir de spredte symbolene egne gevinster. Under gratisspinn blir alle gevinster femdoblet. Hvis man får vinnerrekker med wildsymboler mens kan spiller med gratisspinn, vinner man hele 25x multiplikator, ettersom wildsymbolene femdobler alle gevinster. Hvert spredte symbol man får i løpet av gratisspinnene gir ett ekstra gratisspinn. Gratisspinn spilles med den myntverdien og den innsatsen man spilte med da man vant gratisspinnene. Knappene som endrer innsatsbeløpet er låst under gratisspinn.
Oppsummering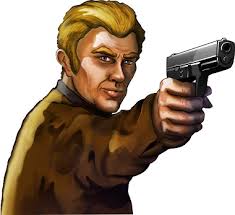 Reel Steal er en spilleautomat med et herlig skurketema. Spillet klarer å gjenskape stemningen fra gamle filmer, både ved hjelp av symbolene og musikken. Selv om musikken passer godt til temaet, kan den bli litt ensformig i lengden, derfor kan det være greit å skru av musikken dersom man skal spille lenge. Automatens innsatsbeløp kan varieres slik at man både kan spille med småpenger og med større beløp. Man har muligheten til å vinne ganske fine gevinster, som 100x innsatsen for fem spredte symboler, eller 25x multiplikator dersom man får vinnerrekker med wildsymboler under gratisspinnene. Automaten har ingen bonusspill, men det er heller ikke nødvendig for å skape stemning. Reel Steal er laget av det svenske selskapet Net Entertainment, og både grafikken og spillfølelsen er god. Dersom man liker gamle gangsterfilmer, eller dersom man har lyst til å stjele en fin gevinst, passer dette spillet bra. Et bonusspill ville kanskje gjort seg, men det er ikke nødvendig for å ha det morsomt med Reel Steal.