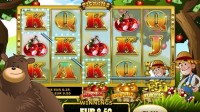 Richard Pickins er en bonde som lever livets glade dager. Nå er det tid for innhøsting, og du er invitert til å hjelpe Rich å plukke med deg store gevinster.
Richard Pickins er en unik spilleautomat på mange måter. Her finnes nemlig hele tre bonusspill, tre forskjellige jackpotter, og wild-symboler som kan gi en gevinst på 10 000 ganger innsatsen. Spillet tilbyr en demo som kan spilles uten å bruke ekte penger, noe som gir deg sjansen til å prøve det ut og se om det er noe for deg.
Grafikk og lyd
Alle spilleautomater har forskjellige grafiske elementer og unike utseender. Det er ikke en overdrivelse å si at Rich Pickins er en av de flotteste spilleautomatene i alle kategorier. Denne spilleautomaten ser veldig bra ut grafisk sett, og det beste er at alle elementene er i perfekt harmoni med hverandre. Grafikken er tegneserie-aktig i utgangspunktet, med stilige animasjoner fra Rich Pickins' bondegård. Nå og da går for eksempel en kylling forbi framfor hjulene.
Bakgrunnsmusikken er en avslappende melodi inspirert av country-musikk. Alle bønder hører vel på country? Lydeffektene er som regel gode, noe som gjelder for spillet generelt sett.
Innsatser
Rich Pickins har 5 hjul, 3 rader, og 20 innsatslinjer. Du kan velge selv hvor mange linjer du vil satse på. Innsatsen per linje er mellom 0,01 euro til 5 euro, noe som betyr at den lavest mulige innsatsen er på 0,20 euro, mens den høyest mulige innsatsen er på 100 euro. På den måten kan man si at Rich Pickins er en spilleautomat for ethvert budsjett. Det er forresten verdt å merke seg at spillet ikke har en autoplay-funksjon.
Effekter og spesialfunksjoner
Det er mye å si om spesialeffektene i Rich Pickins. Først og fremst har vi wild-symbolene. Rich Pickins selv i egen høye person representerer wild-symbolet. Disse symbolene vil erstatte alle andre symboler, med unntak av eple-symbolet og de tre jackpot-symbolene. Fem stykk wild-symboler på en innsatslinje gir også den høyeste gevinsten på spillet, som er på 10 000 ganger innsatsen.
Når du får eple-symbolet på hjul 1 og hjul 5 samtidig, så aktiveres en av Rich Pickins' bonusrunder. 3 gullpenger kommer til syne, og du får velge en. Den valgte gullpengen snur seg og viser deg hvilket bonusspill du får spille. Den første muligheten er at du ikke får en bonusrunde, og i stedet får du en pengepremie med en gang. Ellers kan du aktivere ett av to forskjellige bonusspill. Det ene heter Bear Bonus. En bjørn begynner å riste et tre, som forårsaker at penger og andre ting faller ned på bakken. Etter en liten stund faller et vepsebol ned, og da løper Rich Pickins av sted for å hente pengene som ligger på bakken. Det andre bonusspillet heter Beanstalk Bonus, og her må du velge et frø. Frøet blir plantet og vannet av Richard Pickins, som får bønnestengelen til å vokse. Mens den vokser så øker også gevinstfaktoren. Denne faktoren blir ganget med den opprinnelige gevinsten. Etter at planten har sluttet å vokse er det mulig at den blomstrer, noe som øker gevinstfaktoren enda mer. Når planten er ferdig med å vokse og å blomstre får du tatt med deg totalgevinsten.
Når du spinner hjulene i det vanlige spillet, kommer du nå og da til å merke at det faller frukt ned i kurvene som står under hjulene. Når alle disse kurvene er fylt, så aktiveres den tredje sorten bonusspill. Her må du hjelpe Rich Pickins med å kjøre frukt til markedet. To av kurvene kommer til å falle av bilen, men beløpet i den tredje kurven får du beholde som gevinst.
Sammendrag
Rich Pickins har det meste. Grafikken er eksemplarisk, og framfor alt passer alle elementene veldig bra sammen. I tillegg blir spillfølelsen forbedret en god del av de stilige animasjonene. Bonusfunksjonene er veldig godt gjennomtenkt og kan være svært innbringende. Derfor er Rich Pickins et godt valg av spilleautomat, og det anbefales til alle spillere.