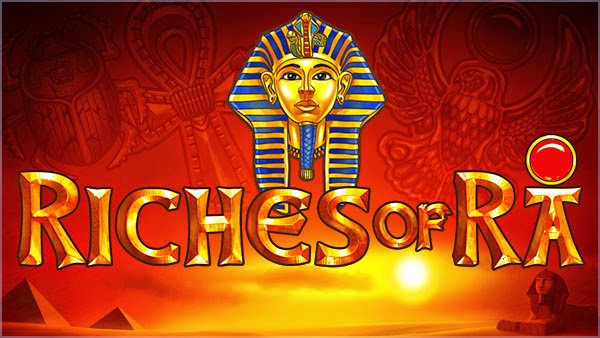 Spillutviklerselskapet Play'N GO er de som står bak utviklingen av slotspillet Riches of Ra. Play'N GO er kanskje ikke det mest kjente spillutviklerselskapet på markedet, men de har her klart å skape et slotspill som har et ganske spesifikt og originalt tema. I Riches of Ra blir man tatt med til egypternes verden, og spilleren blir en del av en av mytene eller historiene som finnes om gudene som ble tilbedt for mange hundre år siden. Riches of Ra har mye spenning å tilby spilleren, og har man litt flaks så er det mange gode gevinster å vinne, på flere ulike måter.
Spillets tema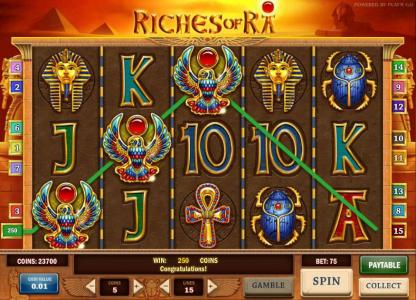 Tema i Riches of Ra er som sagt ganske spesifikt. Man blir tatt med til egypternes verden og fokuset er satt på solguden Ra. Egypterne var veldig opptatte av solen, og det var derfor naturlig at Ra ble den mest kjente guden innen egyptisk mytologi. Ra var den guden som passet på at solen sto opp hver morgen og gikk ned hver kveld. Det var ikke bare dette som var hans egenskap. Det sies også at hvis man ba til Ra med et rent hjerte, så ville Ra gi tilbederen litt mer flaks i livet. Det var nok også derfor at såpass mange så opp til og ba til solguden Ra.
Grafikk og lyd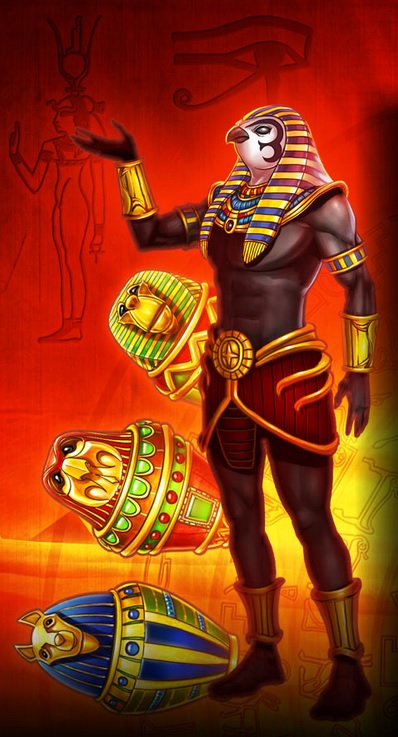 Det er en ting som grafikken avslører når man begynner å spille Riches of Ra, og det er at Play'N GO tydeligvis har studert egyptisk mytologi i forkant av produksjonen av dette spillet. Grafikken viser at det ikke er noe tvil om spillets tema, og det på en veldig bra måte. Bakgrunnen i spillet er en gyllen himmel som er dekorert med en sfinks og to pyramider. I forkant av bakgrunnen finner man hjulene – som så klart er dekket med symboler som passer rett inn i spillets tema. Man finner symboler som har tatt utgangspunkt i ulike kjente egyptiske symboler, slik som anker og faraomasker. Det man ser går igjen er fargene på de ulike symbolene; det er mye blått og gull å finne her. Lydbildet som er lagt på spillet kommer til å imponere en med én gang spillet settes i gang. Bakgrunnsmusikken som er lagt på er en slags mystisk og susende lyd som er med på å skape perfekt stemning for spillet. Når hjulene spinner minner lyden om stein som skyves over stein, som en steindør som åpnes inn til pyramidenes rikdom, kanskje? For hver gevinst man får i spillet vil man høre en annen lydeffekt. Denne kan beskrives som det man kan tenke seg var gammelegyptisk musikk, nesten som fra et unikt strengeinstrument.
Spille disse online casino
Oppsett og innsats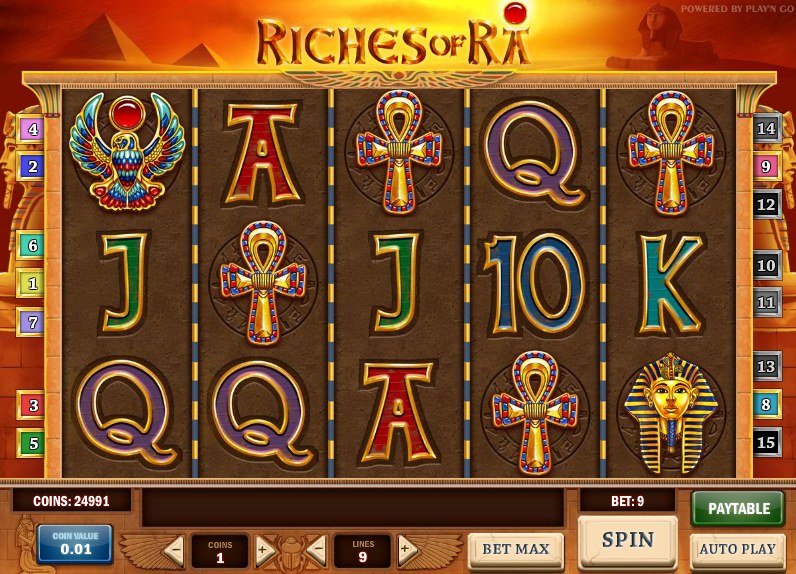 Oppsettet i spillet er på fem hjul, tre rader og 15 innsatslinjer totalt. Når det kommer til innsatsen kan det meste tilpasses av spilleren selv. Innsatslinjene i spillet er ikke faste. Det vil si at man kan selv justere antall innsatslinjer som skal være aktive når man spiller. Myntverdien er det neste man må tenke på å tilpasse før man starter å spille. Myntverdien justerer man selv, så lenge man holder seg innenfor minimum og maksimum grensene som er satt på forhånd. Til sist må man bestemme antall mynter som skal satses per aktive innsatslinje. På laveste innsatsnivå så kan man spille så lite som 0,15 euro per spinn, og på det høyeste innsatsnivået kan man spille for 18,75 euro. Det er med andre ord et ganske lavt innsatsnivå i Riches of Ra, noe som kan passe utmerket for veldig mange spillere, men ikke spesielt heldig for high rollers.
Spesialfunksjoner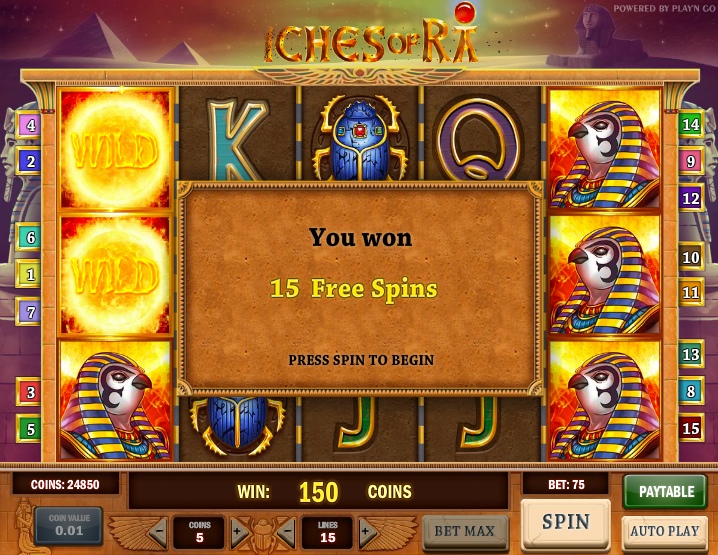 I Riches of Ra finner man et spesialsymbol og to ulike spesialfunksjoner. Spesialsymbolet er så klart wildsymbolet. Wildsymbolet kommer i form av Ra selv, men da i form av et fuglehode. Det er slik Ra oftest ble avbildet. Wildsymbolet fungerer som en joker, og erstatter alle andre symboler i spillet, bortsett fra bonussymbolet. Wildsymbolet kan dukke opp som stablet wild på hjulene. I tillegg til at wildsymbolet er spillets joker, så er den også scattersymbolet. Det er med andre ord wildsymbolet som kan aktivere gratisspinnene i spillet. Får man en kombinasjon på tre wildsymboler vil man få 15 gratisspinn I disse gratisspinnene vil hjul nummer 1 og hjul 5 være dekket med wildsymboler, noe som øker vinnersjansene betraktelig. Bonusspillet i Riches of Ra aktiveres med symbolene som er designet i form av ulike urner med dyresymboler. Når man får en kombinasjon av tre av disse symbolene på hjulene samtidig, vil bonusspillet bli aktivert. I bonusspillet skal man velge et av disse dyresymbolene, og hvert dyresymbol har en pengegevinst som man da automatisk får tildelt. På det meste kan man vinne 150 ganger innsatsen man selv har lagt i spillet.