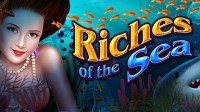 Havet skjuler mange hemmeligheter, og de aller fleste havområdene i verden er fortsatt uutforsket. Ingen vet hva som skjuler seg der nede. Det kan leve ukjente vesener der, og skjule seg magiske og mystiske steder. Kanskje skjuler havet ukjente skatter.
I dette spillet tar Microgaming deg med ned i dypet. Riches of the Sea er ikke full av spesialfunksjoner, som enkelte andre spilleautomater, men du kan til gjengjeld vinne gratisspinn med store gevinstmuligheter. Du kan få opptil 16 gratisspinn med hjul som bare inneholder høytbetalende symboler. I tillegg kan wildsymbolet multiplisere gevinsten 27x.
Grafikk og lydeffekter
Riches of the Sea foregår selvsagt under vann, derfor møter du ulike fisker, havdyr og rovfisker, i tillegg til en vakker havfrue. Grafikken er fargerik og morsom. Spillet har ingen 3D-effekter, og animasjonene er ganske enkle, men likevel er grafikken god.
Lydbildet skaper den rette stemningen. Både bakgrunnsmusikken og effektene når du vinner, er gode. Du kommer ikke til å bli skuffet over verken grafikken eller lyden, og spillet er også ganske morsomt og underholdende.
Innsatser og utbetalinger
Riches of the Sea er tradisjonelt oppbygd, med fem hjul og tre rader. Det er 20 innsatslinjer, men du velger selv hvor mange av dem du vil aktivere. Deretter velger du myntverdien og antall mynter per linje. Du kan satse fra 0,20 euro til 50 euro per spinn. Husk at du bare vinner dersom du får en vinnerrekke på en aktiv innsatsrad. Dersom du ønsker å spille med maksimalt antall mynter i den myntverdien du har valgt, klikker du bare på Max Bet.
Du kan velge å spille inntil 100 autospinn, men du kan ikke stille inn andre valg for autospinn, som at de stanser dersom du taper eller vinner visst mye. Dette kan du stille inn på mange andre automater, men her kan du bare velge innsatsbeløp og antall spinn. Dersom du vil stoppe autospinnene før de er ferdige, må du trykke på Stop.
Spillets logo er det mest verdifulle symbolet i spillet, og kan gi deg 750 mynter dersom du får fem like. Fire logoer gir deg 250 mynter, tre logoer gir deg 50 mynter, og to logoer for deg 10 mynter.
Andre symboler som dukker opp er hvaler, delfiner, fisker, haier, blekkspruter og andre skapninger som lever under vann. I tillegg er kortsymbolene fra ti til ess med i det vanlige spillet. De fleste av disse symbolene gir bare utbetaling dersom du får minst tre like. Spillet gir bare utbetaling for vinnerrekker fra venstre mot høyre.
Spesialinnslag og bonuser
Havfruen er wildsymbolet i spillet, og hun erstatter alle andre symboler, bortsett fra sprederne. Dermed hjelper hun deg å fullføre vinnerrekker. Havfruen finnes bare på de tre midterste hjulene.
Sprederen er et skjell med teksten Scatter. Med tre eller flere spredere vinner du både en gevinst og gratisspinn. Du får 1 mynt for tre spredere, 10 mynter for fire spredere, og 50 mynter for fem spredere. I tillegg vinner du 8 gratisspinn for tre spredere, 12 gratisspinn for fire spredere og 16 gratisspinn for fem spredere. Alle spillkortsymboler forsvinner når du spiller gratisspinn, slik at bare de mest verdifulle symbolene er igjen på hjulene. Det gjør det lettere å vinne store gevinster dersom du først vinner. I tillegg blir havfruen ekstra mye verdt under gratisspinn, i og med at hun kan fordoble premien din hvis hun er med i vinnerrekken. Hvis du får en vinnerrekke med tre havfruer, blir premien multiplisert 27x. Det vil si at du får 27 ganger vanlig utbetaling, og dette kan virkelig gi deg store premier.
Gratisspinnfunksjonen kan gjenutløses mens du spiller med gratisspinn, slik at du i teorien kan spille mange runder med gratisspinn etter hverandre. Men da må du selvsagt ha litt flaks.
Oppsummering
Riches of the Sea er en fargeglad spilleautomat med morsomme symboler. Selv om det ikke er så mange spesialinnslag i spillet, er automaten vellaget og har god spillfølelse. Gevinstene i det vanlige spillet er ganske små, men i gratisspinnrundene kan du vinne store beløp.
Microgaming er en svært anerkjent programvareutvikler, og mange kasinoer tilbyr spill fra Microgaming. De er kjent for å lage spill med høy kvalitet, og med mange varierte tema. Flere av de norske nettkasinoene har også spill fra Microgaming. Derfor er det lett å finne et kasino som tilbyr Riches of the Sea og andre spilleautomater fra Microgaming. Hvorfor ikke dykke ned under havoverflaten i dag, og oppdage hvilke rikdommer havet skjuler for deg? Kanskje du er så heldig at du finner en skikkelig storgevinst der nede.