Tema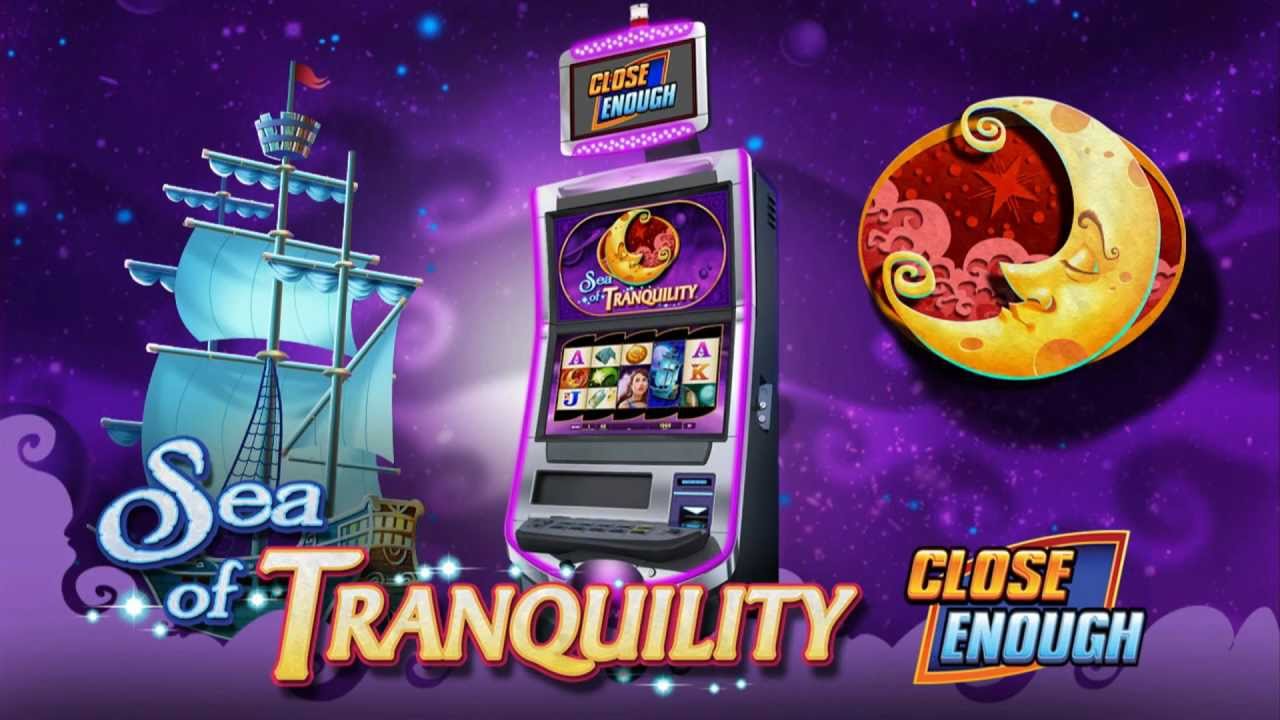 Sea of Tranquility kan oversettes som «et hav av ro», og det er nettopp dette den nye spilleautomaten fra WMS Gaming handler om. Sea of Tranquility er en spilleautomat med fokus på drømmeverdenen, med fine symboler og en bakgrunn som består av planter og solsystemer. Det er en noe spesiell spilleautomat som det kan ta litt tid å bli vant til, spesielt om man ikke har prøvd ut noen andre maskiner fra WMS før. Temaet kan sies være godt gjennomført, men man får absolutt ikke slappe helt av når hjulene spinnes på Sea of Tranquility. Bakgrunnsmusikken og lydeffektene er veldig fine, nesten som tatt ut av en barnefilm – tomlene opp for dette med tanke på temaet WMS har valgt. Symbolene er veldig forskjellige, med kortsymboler, pyjamasluer, gullmedaljonger og ildfluer side om side ved store symboler med vakre kvinner, flygende seilskip og ugler. Det kan bli litt for mange symboler å følge med på, selv om tretti gevinstlinjer vanligvis sørger for at man raskt lærer seg alle kombinasjoner. Sea of Tranquility er også veldig rask når hjulene spinner, og med Autospinn-funksjonen aktivert får man såvidt rukket å se gevinstene rulle inn før det neste spinnet settes i gang. Her kunne WMS ha gjort ting litt bedre, kanskje ved å skru litt ned på farten.
Grafikk og detaljer
WMS Gaming, også kjent som Williams Interactive, har eksistert i mange år og gitt oss flere gode spilleautomater som mange kasinospillere verdsetter. Sea of Tranquility vil gå fint inn i rekken av de andre spillene fra WMS, med gode, detaljerte symboler som er vakkert tegnede. Her er det ingen 3D-grafikk og ei heller noen særlige animasjoner å skryte av. Kortsymbolene er rett og slett litt for primitive å se på – det samme kan sies om de andre symbolene, bortsett fra de tre store symbolene som dekker hele hjulet. Blandingen av ulike symboler i forskjellige størrelser gjør det vanskelig å legge merke til kombinasjonene, samtidig som de halvveis skjulte symbolene på toppen og bunnen av skjermen svekker fokuset. Sea of Tranquility er altså alt annet enn avslappende, om man ikke tenker på lydeffektene og bakgrunnsmusikken.
Utbetalinger og funksjoner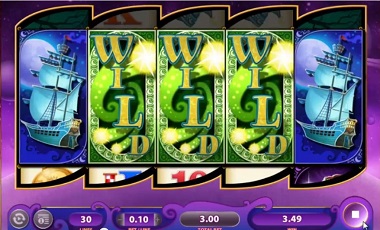 De fleste spill fra WMS har en høy utbetalingsrate – det samme gjelder for Sea of Tranquility. De fleste gevinster er dog veldig små og dekker såvidt innsatsen, så det kan ta litt tid før man treffer en ordentlig saftig kombinasjon. Det er kvinnen, seilskipet og uglen som står for de største gevinstene, om man ikke renger med wildsymbolet. Dette utvider seg nemlig over hele hjulet det dukker opp på, og kan gi hele 1.000 ganger innsatsen tilbake dersom hele skjermen dekkes av disse. Det spesielle med Sea of Tranquility er «Close Enough»-funksjonen. Spilleren vil straks legge merke til de halvskjulte symbolene på toppen og bunnen av skjermen – havner et wild eller scattersymbol her, vil de regnes med i spillet og bli med på kombinasjonen. Dette er veldig lukrativt med tanke på gratisspinn og heldekkende wilds, men kan bli litt frustrerende siden man ikke ser hele symbolet. Det er kun wilds og scattere som regnes med i «Close Enough»-delen av Sea of Tranquility, altså behøver man faktisk ikke følge med på denne delen av spillskjermen. Innsatsmulighetene er veldig brede, men storspillere vil nok holde seg unna på grunn av den lave maksinnsatsen.
Spille disse online casino
Gratisspinn og jackpot
Sea of Tranquility er en noe spesiell spilleautomat. Den har ikke noe ordentlig bonusspill, noe som kunne ha satt prikken over i-et, særlig om bonusspillet hadde vært tilpasset det avslappende temaet. Gratisspinn er den eneste spesielle funksjonen som er med, og det finnes ei heller noen progressiv eller annen jackpot å hente. Når en runde gratisspinn er i gang, kan man dog tjene inn flere kostnadsfrie spinn og la hjulene spinne i nærmest det uendelige. Sea of Tranquility byr på mengder av gratisspinn – man kan vinne opp til 50 spinn om fem scattersymboler dukker opp, i tillegg til at man får 25 ganger innsatsen som en liten bonuspremie. Utbetalingsraten på Sea of Tranquility er høy, men når ikke helt opp til andre spilleautomater. Hadde det eksistert en ordentlig jackpot, altså muligheten til å vinne flere millioner kroner på ett spinn, hadde Sea of Tranquility blitt omfavnet av både hobbyspillere og storspillere. Dette savner den dog, og er dermed en maskin man kan nyte i ett kvarter eller to før man beveger seg videre mot andre spilleautomater. WMS har gjort en god jobb, men Sea of Tranquility er ikke den beste maskinen de har skapt. Den er ikke særlig brukervennlig heller, på grunn av de raske hjulene og noe kompliserte kombinasjonene. Denne passer nok best til de som liker å prøve ut forskjellige spilleautomater for moro skyld – Sea of Tranquility er absolutt verdt å spille, men kan ikke måle seg med de mer populære maskinene på markedet.