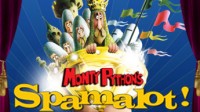 Spamalot er en spilleautomat som er utviklet av Playtech. Automaten har 5 hjul og 20 innsatslinjer. Spamalot er basert på Monty Python's Flying Circus, og kommer garantert til å få deg til å le. Monty Python var kjent for eksentrisk og sær humor, og mange av sketsjene deres har blitt klassikere.
Gjengen bak TV-serien, laget også filmer. En av var Monty Python og den Hellige Gral, som deretter ble til sceneshowet Spamalot. Denne spilleautomaten er basert på dette sceneshowet. Humoren i spillet vil minne deg om Monty Pythons bisarre vitser. Her kan du vente deg mange overraskelser. Ikke bli overrasket hvis det kommer en diger fot og tramper på hjulene.
I tillegg til morsomme innslag, er det selvsagt også mange spesialinnslag, blant annet 4 bonusinnslag. Hvert bonusinnslag gjenskaper en scene fra Monty Pythons film om jakten på den Hellige Gral.
Spamalot har wilds, spredere og gratisspinn. Spillet kan spilles hos kasinoer som tilbyr spill fra Playtech.
Premier og innslag
Spamalot er en progressiv spilleautomat. Det vil si at alle som spiller på den har muligheten til å spille om den store, progressive jackpoten. En progressiv jackpot er en jackpot som utbetales sjelden. Jackpoten starter på et minstenivå, og vokser helt til den blir utbetalt. Jackpoten vokser hver gang noen satser penger på spilleautomaten. En liten prosentdel av hver innsats legges til i jackpoten, derfor vokser den raskere dersom mange spiller på automaten.
Det er ingen fordoblere i dette spillet, men mange andre spesialsymboler. Symbolene på hjulene er kortsymboler og symboler fra filmen, som kong Artur og sir Lancelot. Den Hellige Gral er selvsagt også et av symbolene, og logoen til Monty Python er spillets spreder. Bonussymbolet er en sky med føtter.
Wildsymbolene erstatter ikke spredere, men kan erstatte alle andre symboler, for å fullføre vinnerrekker. Wildsymbolet er "Basketbull"-symbolet, og det dukker faktisk opp ganske ofte. Wildsymbolet danner også egne vinnerrekker. Man kan vinne inntil 10 000 mynter for fem wilds, i vanlig spill, og 30 000 mynter når man spiller med gratisspinn.
Gratisspinn og jackpotspill
Med tre eller flere spredere, vinner du 10 gratisspinn, etterfulgt av the Holy Grail jackpotspill. Gratisspinnene kan ikke gjenutløses. Du kan altså ikke vinne nye gratisspinn mens du spiller med gratisspinn.
Jackpotspillet er bare tilgjengelig når man spiller med gratisspill. Hvis du klarer å samle 5 Holy Grail symboler, vinner du muligheten til å spille jackpotspillet. Du kommer ikke til jackpotspillet før du er ferdig med alle gratisspinnene.
Jackpotspillet har 6 nivåer. I hvert nivå skal du velge en gjenstand og gjette riktig. Da vinner du en pengepremie som tar deg til neste nivå. På det siste nivået, skal du velge mellom to jackpoter. En er Holy Grail jackpot, og den andre er en litt mindre jackpot.
Bonusspill
Spillet har hele 4 bonusspill. De følger etter hverandre etter hvert som du spiller. Alle utløses ved å få bonussymboler på hjul en og fem. Første gang du utløser bonusspillet, kommer du til Storm The Castle Bonus. Her skal du velge mellom seks sirkler. Alle ridderne beveger seg til den valgte sirkelen, og premien blir avslørt. En ku blir kastet fra slottet. Dersom ridderne blir truffet, er spillet over. Dersom de ikke blir truffet, får du spille videre.
Andre gang du utløser bonusspillet, kommer du til det andre spillet, som heter Noen Shall Pass Bonus. Her får du fire muligheter til å kappe en kroppsdel av ridderen. Hvis du treffer, får du en pengepremie, og hvis du taper, vil fordobleren din (som starter på 5x) synke et nivå.
Det tredje bonusspillet heter Knights Who Say Ni Bonus. Du tilbyr en busk til ridderne, som vil tilby deg en pengepremie. Du kan si nei, og prøve igjen tre ganger, før du returnerer til hovedspillet.
Det fjerde bonusspillet er Killer Rabbit Bonus. Her skal du navigere ridderne foran fem steiner. Bak en stein, er det en morderkanin. Kast en granat mot en av steinene, så kan en ridderne våge seg fram. Dersom du treffer kaninen, kan alle ridderne gå trygt videre. Dersom kaninen ikke blir truffet, blir ridderen spist, og du kan prøve på nytt. Du har seks riddere, og for hver ridder som kommer seg trygt over, vinner du en pengepremie.
Oppsummering
Dette er et spill for alle fans av Monty Python. Fans vil gjenkjenne humoren og elementene fra Monty Pythons filmer og TV-serie. De vil ikke bli skuffet verken over humoren i spillet, eller over spillet generelt. Spillet passer for alle spillbudsjetter. Minsteinnsatsen er på 0,01 €, mens maksimumsinnsatsen er på 20 € per spinn.