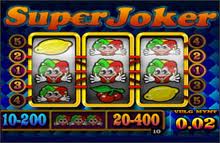 Super Joker var en av de flotteste spilleautomatene i Norge før forbudet kom i 2006. Siden den gang har mange savnet dette spillet, og det har blitt lansert flere nettversjoner allerede.
Mange tenker kanskje at spillopplevelsen aldri får blitt helt den samme, men vi oppfordrer deg likevel til å prøve. Nettcasinoene har fått til noe unikt, og det er ikke lenger så rart å spille på forskjellige automater på nett, uansett hvor rart du kanskje syns det høres ut.
Net Entertainment lanserte Mega Joker
Etter forbudet kom svenske Net Entertainment på banen og lanserte spillet Mega Joker, som ble den første etterligningen av Super Joker på nett. Spillet ble raskt en suksess, og sammen med Jackpot 6000 var dette de mest populære spilleautomatene på nett.
Det spesielle med Mega Joker er at den i tillegg har en progressiv jackpot som kan komme opp i flere hundre tusen kroner. Jackpotten går helt tilfeldig, noe som betyr at den hverken krever en gitt innsats eller en gitt gevinstrekke.
Spilleautomaten til Net Entertainment er absolutt et godt alternativ. Du kan lese mer om Mega Joker i vår omtale om denne spilleautomaten, eller lese videre for å lese mer om en annen nettversjon av dette populære norske spillet.
Betsoft lanserer sin nettversjon
I 2010 lanserte en annen populær spillprodusent ytterligere en nettversjon av spillet mange mener er Norges beste spilleautomat gjennom tidene. Spillprodusenten, som også står bak favoritter som Slotfather og Heist, inngikk en eksklusiv avtale med 7Red og NorgesSpill om å lage nettversjoner av flere originale norske spilleautomater, og først og fremst nevnte Super Joker og Jackpot 2000.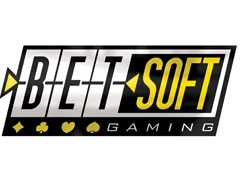 Dette ble straks en suksess, og mange vil nok si at Betsoft sin versjon er mer lik enn NetEnt sin. Betsoft-versjonen har for øvrig også beholdt sitt opprinnelige navn, noe vi tror de fleste setter stor pris på.
Forskjellen på disse to spillprodusentene er egentlig veldig liten, men når det kommer til en nettversjon av en populær norsk spilleautomat, kan den minste detalje være en stor faktor for nostalgien – vi skal derfor ikke uttale oss om hvilken aktør vi mener du bør velge, men ber deg heller lese våre objektive omtaler og prøve spillene selv.
Slik er Super Joker på nett
Forskjellen på det opprinnelige spillet og nettversjonen er faktisk enorm. Da snakker vi ikke utseende og funskjonsmessig, men når det kommer til gevinster. På den originale versjonen kunne man maks vinne 2 000 kroner, noe som var maks for alle norske spilleautomater. På denne nettversjonen kan man derimot vinne hele 10 000 euro – dette er over 70 000 norske kroner!
PS: Og husk at Net Entertainment sin Mega Joker har en progressiv jackpot!
Ellers foregår spillet på samme måte som det opprinnelige. Man spiller først i det nedre vinduet, også kalt standardvinduet, hvor man spiller til man får gevinst. Når du omsider får en gevinst, kan du velge å satse gevinsten i supermetermodus. Her er det høyere innsatser, men også mye større premier.
I supermetermodus kan man satse opp til 200 mynter. Dette lønner seg, fordi man da vil få en mystery-win med en joker synlig hvor som helst i vinduet. Her kan du altså få med deg hele 10 000 euro, eller over 70 000 kroner med dagnes valutakurst. Satser du 100 mynter, får du en myster-win med en joker synlig på det midterste hjulet. Du kan også satse med 20, 40 eller 60 mynt, men du må da ha tre jokere i samme gevinstrekke (noe som for øvrig fører til maksgevinst umiddelbart). Du vil med andre ord kun ha sjans til å få høyere gevinster på de vanlige symbolene, kontra det du ville fått i standardvinduet.
I Betsoft sin Super Joker kan man også velge innsatsnivå, og kan satse alt fra noen få kroner til flere hundrelapper på ett spinn. Finn ditt komfortable nivå, og kjør på!
Fakta om den populære norske spilleautomaten
| | |
| --- | --- |
| Spillprodusent | Betsoft |
| Maksgevinst | €10 000 |
| Innsatsnivå | Forskjellige |
| Jackpot | Nei |
Hvor kan man spille Super Joker?
Betsoft sin Super Joker kan man kun spille hos 7Red.com eller NorgesSpill. Som vi nevnte tidligere i artikkelen, er nettversjonene av de originale norske spilleautomatene eksklusivt for disse to aktørene.
Det beste med disse aktørene er at du får 7 euro helt gratis å spille for (hos begge to!), med én i omsetningskrav. Det betyr at du beholder alle gevinster selv, uten at de er knyttet til et nærmest umulig omsetningskrav.