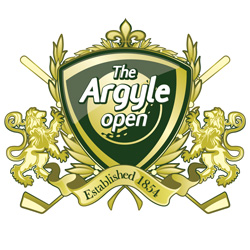 Denne flotte spilleautomaten har fått et noe uvanlig tema når det kommer til spilleautomater, den handler nemlig om golf. Det er spillutviklerne hos Microgaming som står bak denne spilleautomaten og den har blitt satt sammen av fem hjul, fire rader med symboler og 40 spillelinjer. Selv om denne spilleautomaten faktisk ble lansert allerede i 2010, ser den fortsatt utrolig bra ut og har fortsatt ikke blitt et kjedelig eller utdatert spill. Dette skjer dessverre ofte med mange spilleautomater, da teknologien, effektene og innholdet i automater stadig vekk blir forbedret og de gamle spillene blir glemt. Dette er heldigvis ikke tilfellet når det kommer til The Argyle Open. Det som mange kanskje ikke er klare over er at det faktisk finnes opptil flere golfbaner rundt i verden som har navnet Argyle i seg. Blant annet finnes det en i Silver Spring, Maryland som har navnet Argyle Country Club. Denne spilleautomaten er derimot kun blitt basert på oppfinnsomheten og kreativiteten til spillutviklerne som står bak, og ikke på noe fra virkeligheten. Uansett hvor ideen kommer fra er altså The Argyle Open utrolig underholdende, nettopp på grunn av dens bonusrunder, som kommer i flere nivåer. Spillerne vil nemlig kunne spille golf samtidig som de tjener seg opp litt penger.
Spillets ulike funksjoner og innsatsmuligheter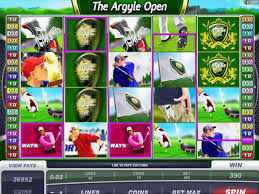 I motsetning til de aller fleste andre spilleautomater som Microgaming står bak er The Argyle Open mye roligere og går saktere frem. De fleste kasinospillere som har testet ut en eller flere automater som Microgaming står bak, vet at de vanligvis er fulle av action og spenning. Denne gangen gikk de derimot for noe mye roligere og avslappet, noe som alltid kan være en hyggelig avkobling. Det kan faktisk bli litt for mye med alle disse ulike spilleautomatene som er stappet full av action og effekter fra begynnelse til slutt. Det skal derimot sies at det er absolutt ikke mangel på spesialeffekter i The Argyle Open. Alle spillets ulike effekter og funksjoner sørger for at spillerne virkelig blir fanget med i spillet og passer helt perfekt sammen med resten av de visuelle effektene. Dette er selvfølgelig blitt basert på spillets vanlige innstillinger. Spillerne vil nemlig selv kunne justere på effektene i automaten og bestemme hvor mye eller hvor lite effekter det skal være. Spillerne vil kunne justere på både lyd, hvor raskt det hele skal gå og hvor mye som skal foregå. For at spillerne skal kunne stille inn spilleautomaten for at det hele skal bli mer behagelig og komfortabelt, bør man ta i bruk noen visse innstillinger sammen med hverandre. Spillerne må velge mellom tre ulike myntverdier, hvor det aller laveste man kan spille med er på 0,01 og oppover til 0,05. Deretter vil man måtte velge antall mynter som man skal satse på hver spillelinje, der kan man satse opp til hele 10 mynter per linje. Til sist må spillerne justere på hvor mange spillelinjer som skal aktiveres.
Symboler, bonuser og andre ekstrafunksjoner i The Argyle Open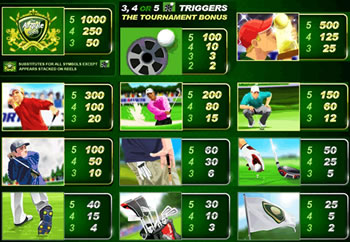 The Argyle Open symbolene handler selvsagt om golf og konkurranse innen golf. Spillerne vil kunne se ulike symboler sånn som ulike golfspillere i forskjellige poseringer, golfkøller, det hvite flagget fra golfbanen og en rekke andre flotte symboler. Spillets hovedsymboler er de som er de med lavest verdi, med andre ord er det symbolet i spillet med høyest verdi: wildsymbolet. Dette wildsymbolet viser frem The Argyle Open logoen og denne vil utbetale gevinster på opp til 1 000 mynter. I tillegg til dette fungerer selvsagt wildsymbolet på vanlig måte, ved at det kan erstatte alle andre symboler i spillet med unntak av andre spesialsymboler. Som om det ikke var nok, har wildsymbolet enda en funksjon. det kan nemlig dukke opp stablet på hjulene, noe som vanligvis er utrolig populært blant kasinospillere. For at spillerne skal kunne komme inn i «The Tournament» bonusrunden, må tre eller flere scattere dukke opp på hjulene. Spillets scattersymbol viser en gylden ball og i denne bonusrunden finnes det hele tre ulike nivåer som spillerne kan glede seg til. Spillerne vil kunne velge mellom disse tre ulike nivåene. I det første nivået må spillerne slå ballen lengst mulig, og jo lenger unna man slår ballen, jo bedre kontantgevinst vil man få. I det andre nivået vil spillerne måtte komme enda litt nærmere hullet og til sist er det det siste nivået. I nivå tre vil spillerne kunne tjene opp til 20 gratisspinn og få multiplikatorer på 5x.
Spill på disse online casinoene
Sammendrag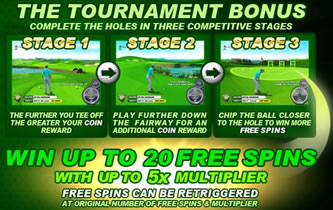 Som man kanskje skjønner er det mer enn nok underholdning og spenning i denne spilleautomaten. Selv om det er en spilleautomat med en rolig sport sånn som golf som sitt tema, har dette ingen betydning når det kommer til mengden med spenning i spillet.