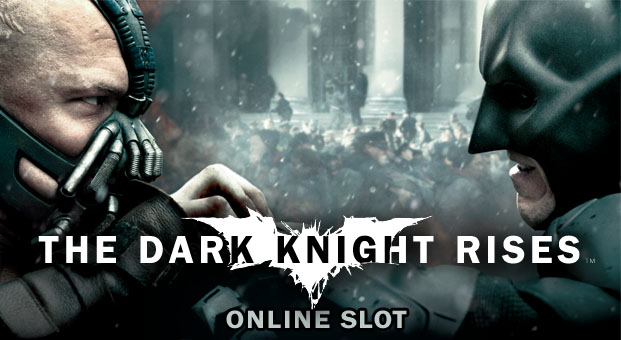 En av de mest populære videoautomatene i 2012 og 2013 er The Dark Knight. Videoautomaten har jo tema fra den andre filmen til Christoffer Nolan, som er en del av triologien om Bruce Wayne aka Batman. Alle suksesser får en oppfølger, og nå har Microgaming kommet med The Dark Knight Rises, som baseres på den tredje filmen i triologien.
I The Dark Knight Rises så møter du Batman, Bane, Selina Kyle, Miranda Tate, politisjefen Gordon og alle de andre hovedpersonene fra filmen. Det er en mengde spesialfunksjoner å oppdage i spillet, blant annet en helt ny free spinn funksjon.
Hvor kan man spille The Dark Knight Rises
Spillet kan spilles hos flere ulike nettkasinoer, og har vært et av de mest populære videoslot spillene i løpet av 2012 og 2013. The Dark Knight Rises kan blant annet spilles hos Unitbet Casino, Mr Green Casino og Spin Palace. Alle kasinoene som tilbyr spillet tilbyr en form for bonus når man lager seg en bruker hos dems kasino. Bonusene vil variere.
Spill på disse online casinoene
Grafikk og lyd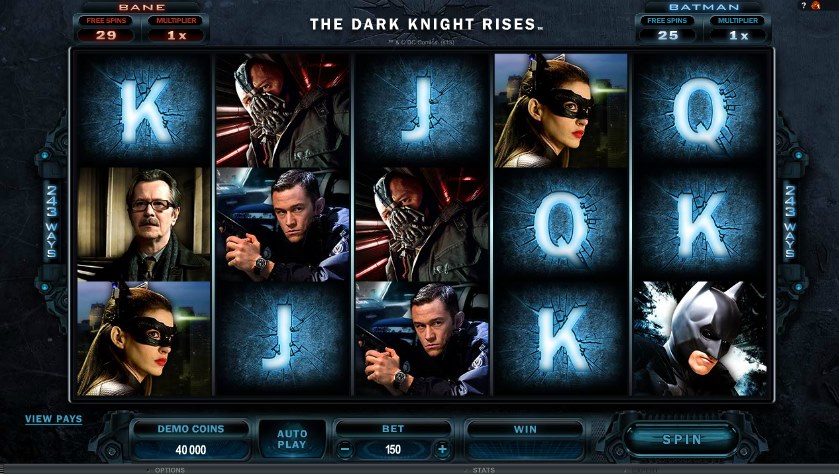 The Dark Knight Rises er en helt ny videoslot, og bare på grunn av det så er presentasjonen av grafikk og lyd fantastisk. Hvis man dessuten tar med det faktumet at dette spillet er den største lanseringen i 2013, så forstår man at Microgaming ikke akkurat har spart på kruttet når det kommer til grafikken og lyden. The Dark Knight Rises er en av de aller mest avanserte videoautomatene i vår tid, både når det kommer til grafikk og til lyd.
Microgaming har en lisens hvor de kan bruke bilder, videoklipp og lyd fra filmen, og den muligheten har de så klart benyttet seg av. Denne videoautomaten er fylt med animasjoner, bilder og lydeffekter fra filmen, noe som gjør spilleopplevelsen til noe aldeles spesielt.
Innsatser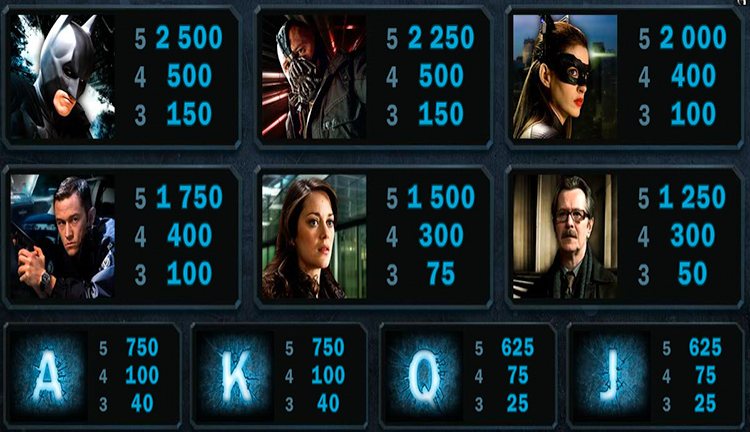 The Dark Knight Rises har fem hjul og 3 rader å spille på. En vri som Microgaming har gjort er at de ikke har satt et visst antall innsatslinjer å spille på, men har heller gitt spillerne hele 243 måter å vinne på. Denne funksjonen fungerer slikt at spilleren får en gevinst så fort 3 like symboler dukker opp på linjer som ligger inntil hverandre.
Man velger selv myntverdi, som ligger mellom 0,01 og opp til 0,05. Man velger også antall mynter, som ligger mellom 1 og 5 mynter. Laveste mulige innsats ligger på 0,30 euro og høyeste innsatsen ligger på 7,5 euro. Når alt dette er bestemt, så er det bare å sette i gang spillet. Med autospill funksjonen så kan man spille opp til 9999 runder helt automatisk, og man kan også gjøre om på mange innstillinger imellom hver runde.
Effekter og spesialsymboler
Spesialfunksjonene er mange, men noen er litt mer spesielle enn andre. The Dark Knight Rises har tradisjonelle wild symboler, to ulike free spins spill, ekspanderende wild symboler, funksjonen Symbol Scramble samt en spesialfunksjon som foregår under en kamp mellom Bane og Batman, og den som spiller får utdelt så mange free spins som mulig.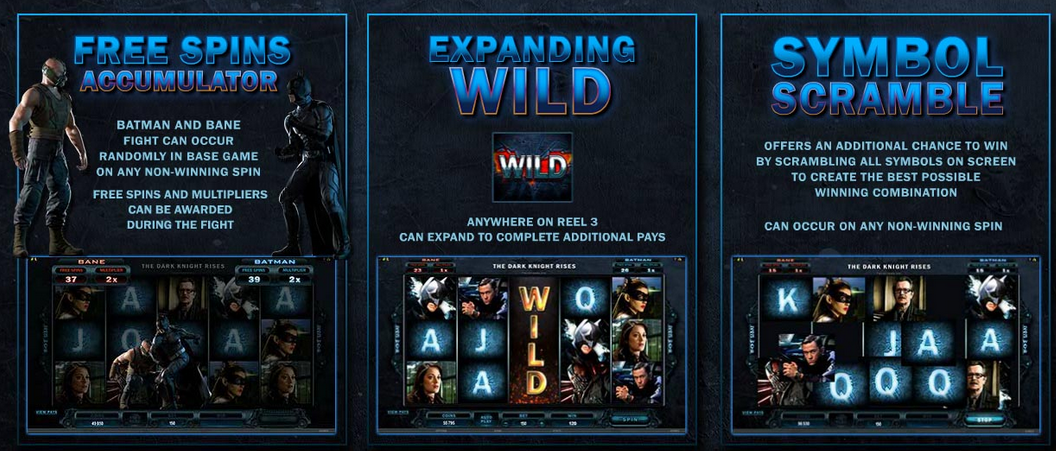 Den sistenevnte funksjonen går under navnet Spins Accumulator og kan aktiveres innimellom, etter en snurr som ikke ga noe gevinst. Det som skjer er at Bane og Batman blir satt opp til kamp på skjermen, og gjennom hvert treff under kampen så blir det lagt til enten gratis spinn runder eller multiplikator til spillerens gevinst. Antallet kan du følge med på øverst i høyre hjørne. Fra begynnelsen så finnes det 10 gratis spinn runder og også en multiplikator på ganger 1, men etter en kamp så kan begge delene ha økt ganske mye. Når du får 3 eller flere bonussymboler så får du velge hvilken gratis spinn spill du vil spille, Bane eller Batman.
Symbol Scramble er en flott bonusfunksjon som også kan aktiveres etter en runde hvor det ikke ble vunnet noe gevinst. Gjennom denne funksjonen så flyttes alle symbolene om, slik at de setter sammen de aller best mulige kombinasjonene. Funksjonen gir deg helt enkelt en ny sjanse til å vinne.
Sammendrag
The Dark Knight Rises har det meste man ønsker at et videoslot spill skal ha. Det er en videoslot spill som virkelig er vakkert lagd, og har en lydeffekter som virkelig slår det aller meste. I spillet har man også mengder av funksjoner som man kan aktivere i løpet av spillets gang, og dette kan gjøre at man er så heldig og får store gevinster med seg i spillet. I spillet The Dark Knight Rises så har man faktisk muligheten til å finne opp til 1,8 millioner mynter.