Tema for spillet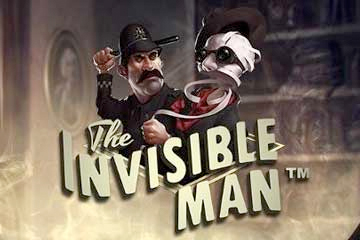 The Invisible Man er resultatet av et sammarbeid mellom Net Entertainment og Universal Studios og er basert på filmen med samme navn. The Invisible man var opprinnelig en science fiction roman skrevet av H. G. Wells i 1897, men ble i 1933 spilt inn som film. Handlingen er lagt til en liten by i Storbritannia og i sentrum står Doctor Griffin, en forsker som har viet livet sitt til å finne en måte å gjøre mennesket usynlig. Han lykkes etterhvert i å utvikle et serum som har denne egenskaper og bestemmer seg for å teste det ut på seg selv, noe som gjør at han blir usynlig, men også har den uheldige bivirkiningen at han blir aggressiv og farlig. Grifiin klarer å bruke usynligheten til å skaffe seg diverse fordeler i livet, men han har et problem; han klarer ikke å reversere effekten og gjøre seg selv synlig igjen. I spilleautomat-versjonen av The Invisible Man vil du møte både Griffin selv og politimennene som jakter å han.
Vinnersjanser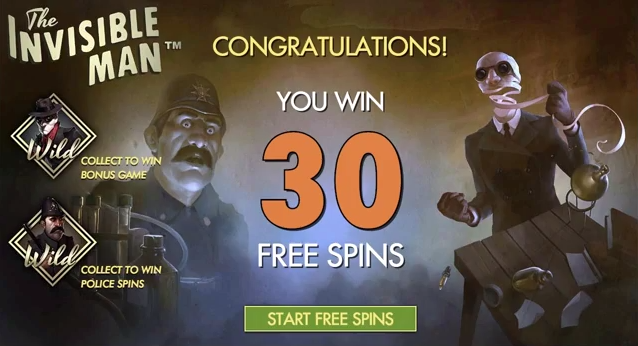 The Invisible Man er en spilleautomat der du med litt flaks kan vinne både ofte og mye. Den teoretiske utbetalingsprosenten er på hele 96.4%. Med dette menes det at du dersom du spiller over lang tid statistisk sett vil vinne tilbake 96.4% av det du satset, noe som betyr at automaten ofte gir utbetaling. Du spiller på 20 innsatslinjer og du satser inntil 10 mynter per linje. Du velger selv myntverdi mellom 0.01 og 0.50. Her har du altså godt med valgmuligheter når det kommer til innsats. I motsetning til de fleste andre spilleautomater kan vinnerlinjer i The Invisible Man gå både fra venstre til høyre og fra høyre til venstre. Symbolet med bilde av The Invisible Man er det ordinære symbolet som gir høyest utbetaling. 5 av disse gir utbetaling på 500 mynter. Spilllets jackpot kan vinnes under et av bonusspillene og er på hele 200 000 mynter.
Grafikk og lyd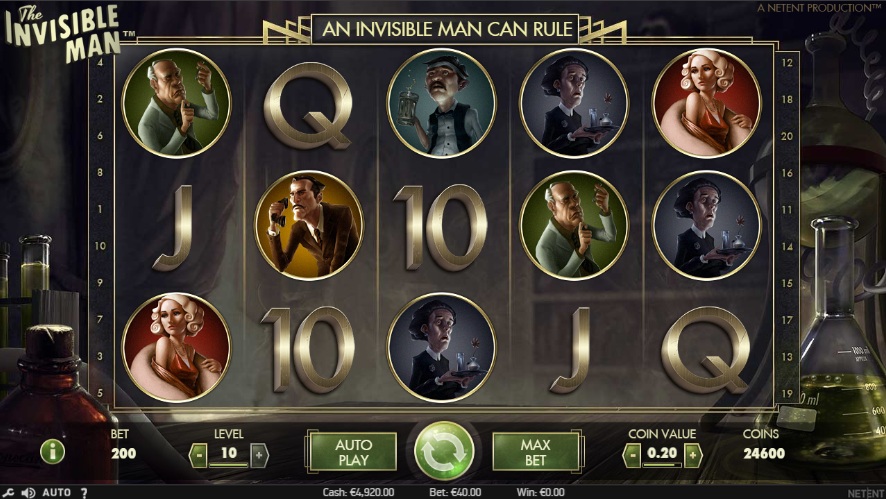 Noe av det som gjør at The Invisible Man skiller seg ut fra mengden, er den utmerkede grafikken. Spilleautomatens bakgrunn endres i løpet av spillet og inkluderer blant annet Griffins laboratorium og en mørk, tåkelagt landsby. Når bonusspill utløses vil du også få se små animerte videosnutter. Symbolene inkluderer landsybeboere og karakterer fra filmen i tillegg til vanlige kortsymboler. Hver gang du får en vinnerlinje vil en laserstråle skyte mellom symbolene og markere linjen og symbolene vil lyse neongrønt. Og som om ikke grafikken var nok til å skape den riktige stemningen, er spillet akkompagnert av mystisk og illevarslende musikk og stilige lydeffekter.
Spille disse online casino
Walking Wilds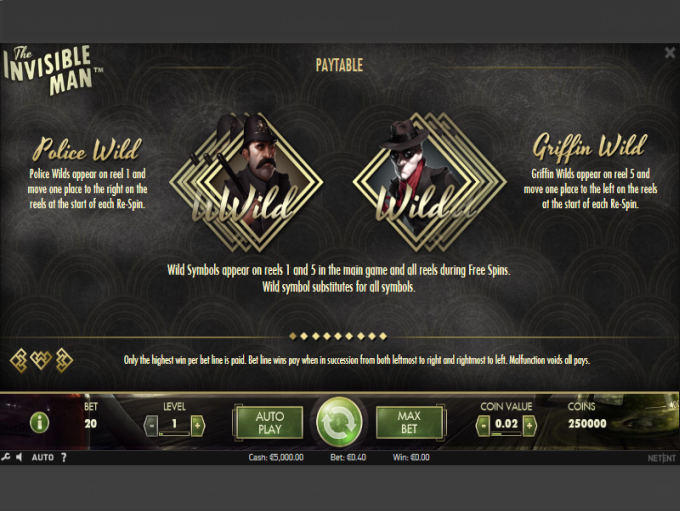 The Invisible Man har såkalte «walking wilds», eller «gående wilds», altså wildsymboler som beveger seg over hjulene. I begynnelsen av spillet har du to ulike wildsymboler; Dr. Griffin selv og en politimann. Politimannen finnes kun på hjul nummer 1 og Griffin kun på hjul nummer 5. Det spesielle med disse symbolene er at hver gang et wildsymbol dukker opp vil du motta en re-spinn som får wildsymbolet til å flytte seg en plass videre på hjulene. Griffin-symbolene vil altså gradvis gå mot venstre og politimann-symbolet vil gå mot høyre. Re-spinnene vil fortsette så lenge du har minst et wildsymbol på skjermen. Øverst på skjermen kan du se to målere med skriften «Police Spins» og «Bonus Game». For hver gang et wildsymbol har beveget seg over alle 5 hjulene, vil disse målerne gradvis fylles opp. Når 8 Griffin-symboler har passert utløses «Bonus Game», og når 8 politi-symboler har passert får du gratisspinn i «Police Spins». Dersom du har både en Griffin-wild og en Politi-wild og disse kolliderer, vil det utløse 10 gratisspinn. Det samme vil skje dersom du får to eller flere wildsymboler på en spinn.
Griffin's Rage Bonus Game og Police Spins
Når Police-Spins-måleren er fylt opp vil du motta 3 spesielle gratisspinn. For hver spinn vil 5 brennende wildsymboler dukke opp tilfeldig spredd utover hjulene og spillet vil avsluttes med at en avisartikkel forteller deg hvor mye du har vunnet. I Griffin's Rage Bonus får du samle mynter og multiplikatorer på 3 ulike steder. Du finner disse ved å klikke på ulke gjenstander og skikkelser. Hvert sted får du fortsette å samle gevinster helt til du trykker på noe som avslører en rød politihjelm. Når dette skjer vil du gå videre til neste sted. Etter bonusspillet vil myntene du har funnet multipliseres med multiplikatorene og du vil få utbetalt gevinsten. Som ved Police Spins, vil gevinsten din vises på forsiden av en avis.
Hvorfor spille The Invisible Man?
The Invisible Man er noe mer enn bare en spilleautomat. Tilhengere av originalfilmen vil kunne glede seg over diverse referanser til filmen og måten spillet forteller en historie, gjør at du raskt blir revet med. Legg til det faktum at du har muligheten til å vinne en jackpot på 200 000 mynter, og du har en spilleautomat det er lett å fascineres av.