Nå er faktisk tiden inne for å ta på seg safarihatten og slipe opp kniven sin. Det er jo tross alt viktig å være riktig kledd når man skal begi seg ut på en tur i jungelen. The Jungle 2 er en fartsfylt videoslot med et veldig tydelig tema. Spillet byr på flere spesialfunksjoner, blant annet et spill for gratis runder hvor man kan vinne opp til 100 gratis spinn. Man har også muligheten til å vinne ganske høye gevinster i det ordinære spillet.
Grafikk og lyd
Temaet i The Jungle 2 er som du sikkert allerede har gjettet, nemlig jungelen. I sentrum av spillet står en eventyrer, som ut ifra de andre symbolene i spillet, er på jakt etter å fange, eller kanskje skaffe seg noen jakt trofeer. Blant symbolene i spillet finner du tigre, elefanter, kikkert, vannflasker og papegøyer. Det finnes også et symbol med en mystisk kvinne på. Hva hun gjør inne i jungelen og hvor hun hører til vet vi ikke men henne symbol er i hvert fall spillets bonus symbol.
Grafikken i The Jungle 2 er veldig bra og man må nesten gi en liten applaus til utviklerne som står bak, nemlig Microgaming. De har lagd noen virkelig imponerende animasjoner i dette spillet. Lyden i spillet derimot, kunne kanskje ha blitt jobbet litt mer med. The Jungle 2 har ikke stort å tilby når det kommer til den biten.
Innsatser
The Jungle 2 har hele fem hjul og 3 rader og spillet på. Du har hele 20 innsatslinjer å legge dine innsatser på, og man velger helt selv hvor mange rader man ønsker å aktivere innen man starter spillet. For å spille med høyest mulige vinnersjanser så bør man spille med alle linjene aktivert. Man kan satse mellom 0,01 og opp til 5 euro per linje, noe som da innebærer at laveste innsatsen som er mulig ligger på 0,20 euro og høyeste mulige innsats ligger på 100 euro. Spillet har også et autospill funksjon, noe som gjør at man kan spille mellom 10 og opp til 50 runder helt automatisk. Man kan i midlertidig ikke sette inn noe stopp i rundene, noe som kan sees på som en liten ulempe.
Effekter og spesialfunksjoner
I spillet The Jungle 2 kan man være heldig og vinne noen ganske høye gevinster i den ordinære delen av spillet, men det er i gratis spinn rundene man virkelig har sjansen for å bli rik og vinne mye penger. Gratis spinn spillet i The Jungle 2 er virkelig unikt, grunnet 2 ting. Den første ganske så originale delen av spillet er det at man faktisk kan vinne opp til 100 gratis spinn. Innen man får aktivere og begynne å spille med sine gratis runder så får man også snurre på et lykkehjul i spillet, og lykkehjulet har ganske høye tall på seg. Så man kan være heldig selv om man ikke får 100 gratis runder, man kan også vinne 75 eller 50 gratis spinn, noe som ikke er så ille det heller. Man er faktisk alltid garantert et minstetall på 15 gratis spinn runder.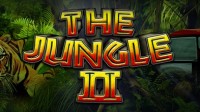 Den andre delen av gratis spinn rundene som er ganske originalt når det kommer til The Jungle 2, er det at gevinster regnes både fra høyre og fra venstre på linjene, men dette kun i gratis rundene. Dette betyr jo da egentlig i praksis at man går fra å ha 20 innsatslinjer til å ha 40. Når du har muligheten til å få opp til 100 gratis runder, pluss at man har funksjonen som regner fra både høyre og venstre, så kan man nesten ikke unngå å vinne gode gevinster i dette spillet.
Bortsett fra gratis spinn spillet i The Jungle 2 så har man også noen scatter symboler som kan dukke opp underveis. Scatter symbolet er bilde av en elefant, og disse symbolene kan faktisk gi gevinster opp til 100 ganger innsatsen man har lagt inn.
Sammendrag
The Jungle 2 har et gratis spinn spill som virkelig er noen originalt og gir det lille ekstra. Det er jo ikke noe annet å si når man har muligheten til å kunne vinne opp til 100 gratis spinn runder. For øvrig finnes det jo ikke så veldig mange andre spesialfunksjoner i The Jungle 2, men når man virkelig tenker over det, så er det kanskje ikke nødvendig med mange funksjoner i et videoslot spill når man har gode muligheter til å vinne store gevinster, og det ganske ofte også. Hva mer kan man egentlig be om?