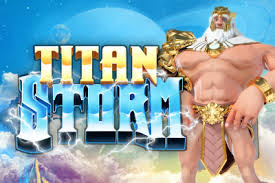 Det er utrolig mange som har veldig stor interesse for gresk mytologi, og for de som har mye kunnskap innen dette feltet eller iallfall stor interesse for det må dette være det perfekte spillet. I dette spillet vil spillerne nemlig kunne bli bedre kjent med Gaia, som var jordens gudinne, og Uran, som var himmelens gud. I tillegg til disse kan spillerne møte på en rekke andre kjente figurer og personligheter, som man mest sannsynlig har hørt om tidligere. Disse ulike brødrene og søstrene var gift og deretter ble Prometheus, musene og andre velkjente figurer født. Disse er nok noen av de aller mest kjente karakterene fra disse gamle legendene. I løpet av de siste årene har alle disse blitt utrolig populære nok en gang, og det har blitt laget filmer om dem, tegneserier har blitt laget og selvfølgelig har de nå dukket opp på spilleautomater. Denne gangen er det snakk om dette nye, spennende og actionfylte spillet som har fått tittelen Titan Storm. Dette spillet er det spillutviklerne hos NextGen Gaming som står bak, og det kan nok bli den nye favoritten til utrolig mange kasinospillere der ute. Spillet kan nemlig ikke bare by på et spennende tema og like flott og oppfinnsom grafikk. Titan Storm kan friste med både wildsymboler, scattersymboler, gratisspinn og mye mer. Det er rett og slett ikke noen grunn til at man ikke skal gi denne spilleautomaten en sjanse eller to – uansett om man har interesse for gresk mytologi eller ikke vil man mest sannsynlig ville vite mer etter et par spinn på denne.
En introduksjon til spillets oppsett og ulike funksjoner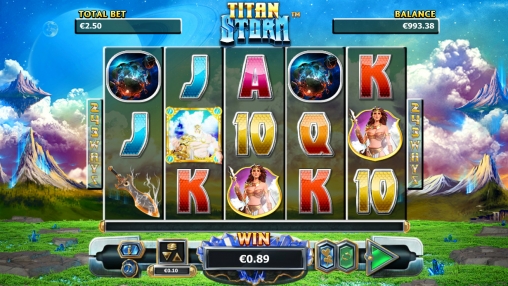 Titan Storm har blitt satt sammen på en ganske standard måte, alt bortsett fra spillelinjene. Dette betyr at spillerne vil bli møtt av fem spinnende hjul, tre rader fylt opp med fargerike symboler og til sammen 243 ulike måter man kan vinne på. Det er her de ikke altfor klassiske spillelinjene kommer inn i bildet, spillet har nemlig ingen vanlige spillelinjer. I stedet har spillet fått disse 243 ulike måtene som spillerne kan få gevinster på. Det er ikke noe negativt, tvert imot, for dette er uten tvil mer lønnsomt for spillerne i forhold til vanlige spillelinjer. Spillerne vil i tillegg kunne finne alle de vanlige funksjonene som de kan ønske seg fra en spilleautomat, sånn som gamble-funksjonen. I gamble-funksjonen kan spillerne faktisk doble gevinstene sine som de får fra en vinnende kombinasjon. Spillerne må kunne gjette enten fargen eller symbolet på kortet som er snudd og om de gjetter riktig vil gevinsten bli doblet. Om spillerne derimot gjetter symbolet på kortet vil faktisk gevinstene bli firedoblet. Denne funksjonen kan spillerne ta i bruk fem ganger i samme runden.
Symboler og ulike innsatsalternativ i Titan Storm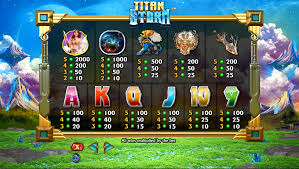 På spillets fem hjul vil spillerne kunne se en rekke flotte symboler, og de har selvfølgelig alle blitt tilpasset og designet etter spillets tema. Med en gang spillerne klikker seg inn på Titan Storm vil de nemlig bli møtt av en rekke flotte bilder av mystiske skapninger, deres skjold og selvfølgelig noen av deres våpen. I tillegg til disse symbolene har spillutviklerne tatt i bruk de vanlige spillekortsymbolene som inkluderer 9, 10, J, Q, K og A. Deretter finnes det selvsagt noen spesialsymboler som spillerne kan glede seg til, men mer om de kommer senere. Deretter lurer selvsagt kasinospillere alltid på hva slags innsatsalternativ det finnes. Her kan spillerne variere på kun hvor mye som skal satses per spillelinje. Med andre kan ikke spillerne plassere flere mynter enn en på en spillelinje og spillerne kan heller ikke justere på spillelinjene, på grunn av at det ikke finnes noen. Spillerne kan derimot justere på innsatsen sin mellom 0,25 og oppover til 50.
Spille disse online casino
Spesialsymboler og andre spennende funksjoner i spillet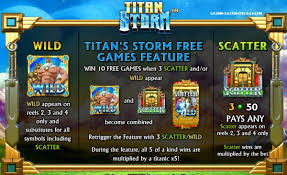 Som nevnt allerede finnes det selvfølgelig noen spesialsymboler som spillerne kan glede seg til i spillet. Det finnes både et wildsymbol og et scattersymbol. Wildsymbolet har blitt representert av en stor kar med hvitt skjegg, Zeus, mens scattersymbolet har blitt representert av en gullport. Wildsymbolet vil kunne falle ned på hjulene når som helst, men den kan kun dukke opp på de tre hjulene i midten. Det kan derimot ikke skape noen vinnende kombinasjoner av seg selv, men kan selvfølgelig erstatte alle andre standardsymboler i spillet med unntak av scattersymbolet. Scattersymbolet kan også kun dukke opp på spillets andre, tredje og fjerde hjul. Dersom tre scattersymboler skulle dukke opp på skjermen samtidig, vil spillerne kunne motta en flott gevinst i form av 50x innsatsen deres. Begge disse to spesialsymbolene kan i tillegg aktivere spillets gratisspinn-funksjon.