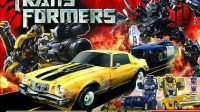 Hvis du har sett filmen eller tegneserien Transformers, har du sikkert allerede hørt om Optimus Prime og autobotene. Deres fiende er Megatron, som prøver å ødelegge jorden. Og når det ikke går, gjør han ugagn andre steder i verdensrommet. Målet hans er å forhindre at autobotene kan komme tilbake til hjemplaneten sin.
Spilleautomaten Transformers: Battle for Cybertron handler om kampen mellom disse to sidene. Cybertron er hjemplaneten til autobotene, og det er denne planeten det kjempes om. Megatron gjør hva han kan for å stanse autobotenes forsøk på å få tilbake hjemplaneten. Autobotene gjør det de kan for å stanse planene hans.
Spillutvikleren IGT har fått tillatelse fra Hasbro til å utvikle spillet. Dermed kan de bruke originalmusikk, lydeffekter og bilder fra både filmene og TV-seriene. Spilleautomaten er full av spesialfunksjoner. I frifall kan man vinne flere gevinster etter hverandre, og spillet inneholder også fem mysteriefunksjoner.
Lydeffekter og grafikk
Transformers: Battle for Cybertron er en svært vellaget spilleautomat. Både grafikken og lydeffektene er gode, og spillet gir en fin multimediaopplevelse. Et godt tips er å spille med øretelefoner, for å få mest mulig ut av musikken og effektene. Da får man virkelig den rette stemningen når man spiller.
Animasjonene i spillet er veldig godt laget. Det er spesielt morsomt når Optimus Prime eller Megatron blir aktivert. Spilleautomaten har fem hjul og fire rader, med til sammen 40 innsatslinjer. Antall linjer kan ikke velges. Man spiller alltid med 40 innsatslinjer, og én mynt per linje. Den faste innsatsen er på 60 mynter. Årsaken til at man satser 60 mynter, i stedet for 40, er at man satser en mynt per linje, og 20 mynter ekstra for bonusinnslagene.
Du kan ikke velge antallet mynter, men du kan velge myntverdien. Slik bestemmer du hvor mye du ønsker å satse per spinn. Myntverdien kan velges fra 0,01 til 0,50 euro. Med laveste myntverdi, koster det 0,60 euro per spinn. Med høyeste myntverdi, koster det 30 euro. Spillet har ingen progressiv jackpot, og det oppgis heller ikke hva som er toppgevinsten.
Morsomme tilleggsfunksjoner
Spillets fem mysteriefunksjoner aktiveres tilfeldig. Du trenger ikke å vinne for at de skal aktiveres. Hvis du får Optimus Prime mysteriefunksjon, blir alle deception-symboler forstørret. I Megatron mysteriefunksjon ødelegger Megatron alle autobotsymboler. Det utløser et frifall, der nye symboler faller ned på de ledige plassene, og kan gi deg gevinster.
Grimlock, Shockwave og Ratchet utløser også egne mysteriefunksjoner. Grimlock og Shockwave ødelegger en viss prosentdel av symbolene. Ratchet kan dukke opp når to bonussymboler viser seg på hjulene. Han kan gi deg et tredje bonussymbol på hjulene.
Automaten har også fire gratisspinninnslag. Når du vinner gratisspinn, velger du hvor mange gratisspinn du vil ha, og du velger multiplikatoren de skal spilles med. Megatron gir deg 5 gratisspinn med 8 eller 10 ganger multiplikator. Optimus Prime gir deg 8 gratisspinn, med gevinster som multipliseres 4-10 ganger.
Frifallfunksjonen aktiveres hver gang man vinner, og gjør det mulig å vinne flere ganger på rad. Når man får en vinnerkombinasjon, forsvinner symbolene i vinnerrekka, og nye symboler faller ned på de tomme plassene. Dersom man vinner denne gangen også, skjer det samme igjen. Så lenge man fortsetter å vinne, fortsetter man å få frifall.
Alt i alt
Transformers er en veldig god spilleautomat som virkelig er verdt å prøve. Grafikken er super, og lydeffektene skaper virkelig en god stemning. Mysteriefunksjonene og de valgfrie gratisspinnene gjør alt enda morsommere. I motsetning til i filmene, trenger du ikke å velge side. Du vinner enten det er autoboter eller deceptions som dominerer hjulene. Spesialinnslagene gjør det gøy å spille, og selv om man betaler litt ekstra for spesialinnslagene, er det virkelig verdt det. Transformers: Battle for Cybertron tilbyr morsom underholdning. Man trenger ikke å ha sett filmene eller TV-seriene for å like automaten.
IGT er en av verdens mest anerkjente spillutviklere. De er en av de største leverandørene av nettkasinospill og spill til landbaserte kasinoer, og de har virkelig klart å lage et spill av utmerket kvalitet. De legger alltid sin ære i å utvikle gode spill. En leverandør er avhengig av tillit fra kasinoene og spillerne, og hvis de leverte spill av dårlig kvalitet, ville de fort miste kunder. IGT leverer trygge spill, og sørger for at pengeoverføringer er beskyttet av den beste krypteringsteknologien på alle kasinoer som bruker programvaren deres. Spillenes utbetalinger er styrt av en tilfeldighetsgenerator. Denne generatoren testes av uavhengige eksperter, slik at spillerne skal føle seg trygge. Tilfeldighetsgeneratoren kan ikke påvirkes av kasinoene. Kasinoene kan ikke påvirke hvor ofte automatene utbetaler gevinster.