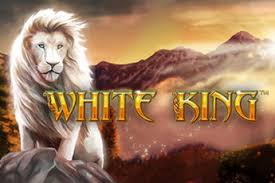 White King er en spennende og ny spilleautomat som kommer fra spillutviklerne hos Playtech. Dette er et spill som ble lansert i november i 2014 og det har fått et ganske unikt og spennende tema. Spillet handler nemlig om villmarken, noe man ikke ser altfor ofte på spilleautomater. Spillet har fått med en hvit løve som er spillets hovedkarakter, da det tross alt er denne løven som nettopp er White King. Spillet kan friste spillerne med grafikk som er ganske annerledes enn det man ofte ser i spilleautomater, sammen med et lydbilde som passer perfekt til spillets tema og design. Dersom det finnes noen kasinospillere der ute som ikke har prøvd noen av Playtech sine spilleautomater tidligere, er White King den perfekte tittelen som man kan starte med. Denne kan nemlig virkelig få vist frem hva disse britiske spillutviklerne kan skape. Når det kommer til spesialfunksjoner i spillet er den mest spennende spesialfunksjonen i White King den med stablede wildsymboler. I tillegg til dette finnes det selvsagt en gratisspinn-funksjon. Det finnes rett og slett en rekke spennende ting som spillerne vil oppdage etterhvert i spillet. Spillet vil uten tvil falle i smak hos de fleste kasinospillere som klikker seg inn på White King.
Tema og grafikk i spillet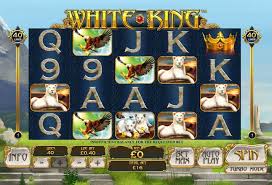 White King handler som nevnt allerede om en løve, et tema som man mest sannsynlig aldri har sett tidligere. Denne løven er derimot ikke noen vanlig løve, for den er nemlig hvit og er selvsagt kongen over savannen. Det er usikkert om alt dette bare er fantasi eller om det kanskje finnes slike spesielle albino løver ute i naturen. Kanskje de rett og slett får en høyere status enn andre løver nettopp fordi de skiller seg ut. Det er egentlig ikke noe viktig i dette tilfellet, da det bare er snakk om et spill. White King har uansett blitt laget som en majestetisk karakter, noe som virkelig blir understreket av de vakre bildene av dyrenes konge. Med unntak av symbolene som viser frem denne løven, finnes det selvsagt noen symboler som viser andre dyr fra denne delen av verdenen. Spillerne vil derfor kunne se ørner, kongekroner samt de klassiske spillekortsymbolene som har blitt designet i hvitt. Playtech sørger alltid for at de skaper flotte og stemningsfulle lydspor til sine spilleautomater, og nok en gang har de klart det. I White King har de til og med tatt det et skritt lenger, da musikken i spillet virkelig er noe helt for seg selv.
Spillernes innsatsalternativ og funksjoner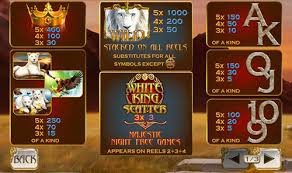 White King er en spilleautomat som er ganske stor i størrelse dersom man sammenligner med de fleste andre spilleautomater. Det finnes fortsatt de samme fem hjulene i spillet, men i stedet har spillet fått fire rader med symboler. Det gjør at spillet kan friste med hele 40 spillelinjer. Spillerne vil selv kunne velge hvor mange av disse som skal aktiveres og deretter kan spillerne justere på innsatsen sin per spillelinje. Spillerne vil kunne satse opp til 2000 i denne spilleautomaten, som vanlig er maksimal innsats i Playtech sine spilleautomater skyhøye.
Spill på disse online casinoene
Spesialfunksjoner og bonusrunder i spillet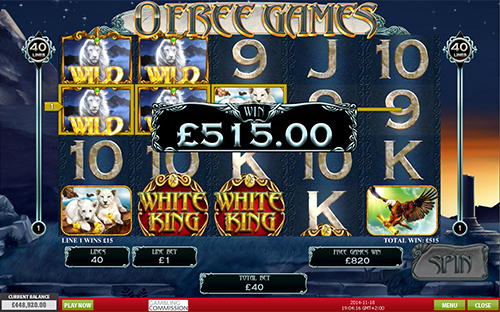 White King kan friste sine kasinospillere med to ulike spesialsymboler, og her er det selvsagt snakk om wildsymboler og scattersymboler. Wildsymbolet i spillet kan dukke opp stablet på hjulene og kan dermed dekke mellom en og fire posisjoner på et hjul. I tillegg til dette finnes det ganske mange wildsymboler på hjulene, noe som gjør at spillerne vil kunne se disse symbolene på nesten hvert eneste spinn. Deretter finnes scattersymbolet som viser spillets logo. Det er dette symbolet som vil kunne aktivere gratisspinn-funksjonen i spillet og med tre scattersymboler på hjulene to til fire får spillerne fem gratisspinn. I tillegg til dette vil spillerne motta en gevinst på tre ganger innsatsen sin. I gratisspinnrunden vil antallet wildsymboler på hjulene være enda flere, noe som gjør det enda litt enklere for spillerne å få gevinster. Noen andre bonuser finnes det derimot ikke i gratisspinn-funksjonen.
Sammendrag
White King er virkelig en spilleautomat som har blitt gjennomført på en flott måte, et flott tema som vises i spillet fra begynnelse til slutt. Grafikken og lydbilde i spillet er heller ikke noe som man kan klage over. Spillerne kan i tillegg stikke av med noen flotte gevinster i White King, både gjennom de stablede wildsymbolene og gratisspinn-funksjonen. Det finnes rett og slett mer enn nok underholdning i spillet, og dette kan nok ende opp som den nye favoritten til en rekke kasinospillere.