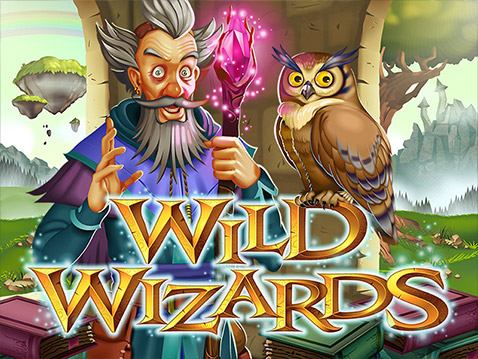 Bli med til en magisk verden med trollmenn, flyvende hus og trylledrikker. Den online spilleautomaten Wild Wizards ble lansert i desember 2014 og i sentrum står noen ville trollmenn som ved hjelp av ulike trylleformler kan utløse en rekke spennende bonusspill. Spillet ble produsert av RealTime Gamings og byr på blant annet ekspanderende wildsymboler, scattere, multiplikatorer og hele 5 ulike bonusspill, så her er det bare å la seg forhekse.
Utseende og oppsett
Tema i Wild Wizards er naturligvis fantasy-inspirert med en klassisk middelalder-trollmann i hovedrollen. Spillet finner sted ute på en grønn eng med ruvende fjell og et magisk slott i bakgrunnen. I nedre del av bildet finner du ulike trolldomseffekter, som en boblende trylledrikk en tryllestav, en spådomskule og en mystisk kiste. Du har totalt 10 ulike vanlige symboler, alle inspirert av spillets tema; en ugle som leser en bok, en trollmannshatt, et flyvende tårn, trylledrikker og kortsymbolene 9, 10, J, Q, K og A malt i skinnende gull.
Spillets hovedtrekk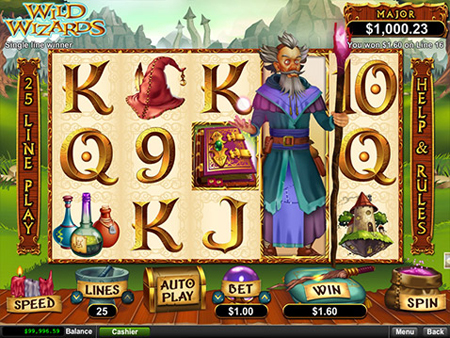 Spilleautomaten har 5 hjul, 3 rader og 25 innsatslinjer. Du velger selv hvor mange linjer du ønsker å spille på ved enten å bruke pilene ved siden av morteren nede til venstre eller ved å trykke der det står «line play» helt til venstre i bildet. Du kan justere myntverdien innenfor intervallet $0.01 til 0.25 $. Alle vinnerlinjer må starte på hjulet lengst til venstre og ligge på en aktiv innsatslinje. For å vinne på kombinasjoner med kortsymbolene trenger du minst 3 like, mens du for bildesymbolene får en liten gevinst selv for kun 2-hjuls vinnerlinjer. Unntaket fra denne regelen er scattersymbolet (mer om dette senere). Symbolet med den lesende uglen er det som gir høyest gevinst. 5 av disse og du vinner 750 mynter. De øvrige symbolene gir utbetaling på mellom 100 og 500 mynter for 5 like.
Spille disse online casino
Wild Wizards har både scatter- og wildsymbol. Trollmannen, som kun opptrer på hjul 2-5, er, slik du kanskje har gjettet, wildsymbol og kan dermed erstatte alle symboler, inkludert scattersymbolet. Det spesielle med denne spilleautomaten er at hver gang trollmannen dukker opp, vil han vokse til full størrelse og dekke hele hjulet han befinner seg på. Scattersymbolet er trolldomsboken. Får du 3 eller flere av denne vinner du, uansett om de befinner seg på en aktiv innsatslinje eller ikke. Ettersom scattergevinster ikke behøver å komme fra en bestemt innsatslinje, multipliseres gevinsten med den totale innsatsen for runden. Spillet har også to progressive jackpotter som vises oppe i høyre hjørne. Disse utløses helt tilfeldig etter en hvilken som helst spinn.
Bonusspill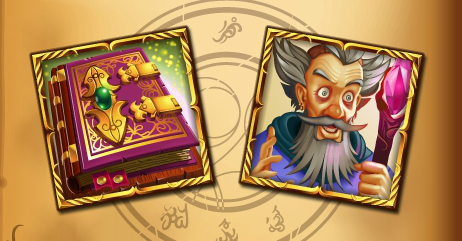 Det som kanskje er den mest spennende funksjonen i Wild Wizards, er de 5 bonusspillene som trigges hver gang du får en trolldomsbok på hjul 1 og en trollmann på hjul 5. Hvert av spillene gir en kombinasjon av gratisspinn og enten ekstra wildsymboler eller multiplikatorer, men hvilket av spillene som utløses er helt tilfeldig. I Mad Magic Feature får du 5 gratisspinn med multiplikatorer på 5x for 4 like, 50x for 3 like og 500x for 5 like. Dersom Polymorph Feature utløses, vil trollmannen trylle frem 1, 2 eller 3 bonussymboler som forvandles til trollmenn dersom de dukker opp.Wizard's Tower Feature og Fireball Feature er relativt like, førstnevnte gir 8 gratisspinn der trollmannen hele tiden dekker hjul 3, mens sistnevnte kun gir 6 gratisspinn, men da med trollmenn på både hjul 2 og 4. Det siste bonusspillet kalles Sorcery Feature og er spillet som gir flest gratisspinn. Her får du 10 spinn der en ekstra trollmann legges til på et av hjulene før hver runde.
Nyttige funksjoner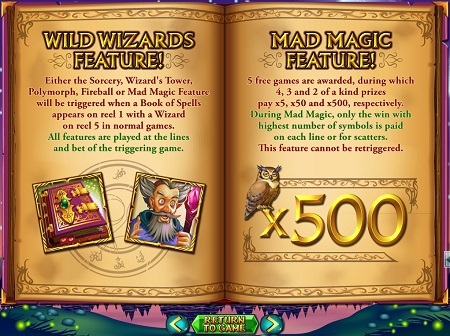 På Wild Wizard-automaten er det flere nyttige ekstrafunksjoner det er greit å være klar over. Spillet har blant annet en ganske detaljert autoplay-meny som du får opp dersom du trykker på kisten nederst på skjermen. Du velger naturligvis hvor mange spinn du ønsker at maskinen skal gjennomføre (du har 8 ulike valgmuligheter, alt fra 5 til 1 000 autospinn), men du har i tillegg muligheten til å velge å automatisk stoppe autoplay dersom du vinner, dersom du vinner jackpotten eller utløser bonusspill, dersom du vinner mer enn et valgt beløp eller dersom du får over eller under et visst beløp på kontoen. En annen praktisk funksjon er «Speed»-ikonet, representert av tre stearinlys i venstre hjørne. Her kan du velge mellom 3 ulike hastigheter på spillet, jo flere av lysene som brenner, jo raskere spinnes hjulene.
Oppsummering
Ettersom myntverdi er begrenset til $0.25 er ikke Wild Wizards en spilleautomat du blir millionær av. Med sine varierte og morsomme bonusspill, samt sjarmerende detaljer i grafikk og lyd, er det likevel absolutt et spill det er verdt å prøve. Det skal også sies at de to progressive jackpottene gjør at du til tross for begrensninger i hvor mye du kan satse per spinn, har muligheten til å vinne ganske betydelige summer, uansett innsats.