Om spillet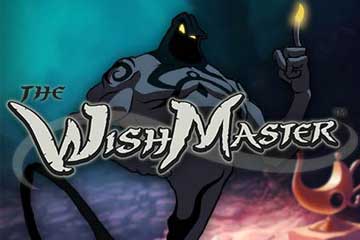 Det er noen temaer som blir brukt mer enn andre i spilleautomater så det er noen ganger utfordrende å få et originalt spill som skiller seg ut fra mengden. The Wish Master har et tema som er blitt brukt utrolig mye, det er nemlig ånden i flasken som er i fokus. Net Entertainment, som er spillutviklerselskapet som står bak, har likevel klart å sette sin vri på det, slik at spillet skiller seg litt ut fra de andre med samme tema. Det er ånden i flasken som er spillets hovedkarakter, men han ser egentlig ut til å være en ganske ond ånd. Man vil fort oppdage at selv om han ser ond ut så er han egentlig kun der for å hjelpe. Han kan blant annet være hyggelig og dele ut både multiplikasjoner og ulike jokerfunksjoner. Tema fungerer utrolig godt og skaper grunnlag for en bra videoslot.
Grafikken og lyden i spillet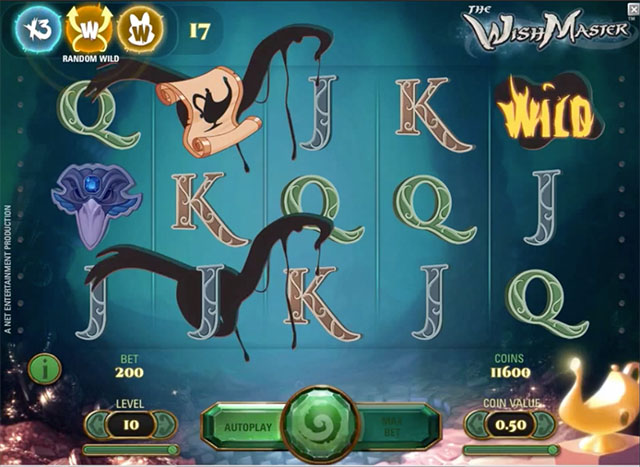 Det første som møter en når man setter i gang The Wish Master er en introduksjonsfilm. På filmen så ser man lampen som er i fokus og det blir zoomet mer og mer inn på den. Lampen er plassert helt alene i en grotte og rundt i denne grotten så kan man trolig finne andre skatter. Når man fortsetter å se på filmklippet så vil man raskt forstå at det er en ånd i denne lampen og det er det spillet handler om. Det er en flott start på spillet, og man vil ikke bli skuffet når man så får se på spilleskjermen. Øverst i høyre hjørne så finner man spillets logo, som er formet i helt enkle hvite bokstaver. Nederst på spilleskjermen så finner man spillets knapper, som alle er formet i en flott grønnfarge. Over spinn knappen som er plassert midt på rekken så finner man en grønn tekst som sier «may your wishes come true», som betyr «måtte alle ønskene dine bli sanne». Bakgrunnen i spillet er formet som et mystisk bilde og det er trolig grotten man ser. Nederst i høyre hjørne så finner man lampen. Hjulene i spillet er formet slik at bakgrunnen skinner gjennom. Hjulene er kun delt opp med noen tynne linjer. På hjulene så finner man spillets symboler, som er formet som ulike figurer med vakre steiner på. Symbolene er trolig formet som skattene man kan finne i grotten. I tillegg så har man symbolene fra en vanlig kortstokk, og de er formet i helt enkle bokstaver. Lydbilde som er lagt på spillet bidrar til den mystiske stemningen. Man har en god bakgrunnsmusikk men det er lydeffektene som kommer til å imponere i spillet.
Innsatser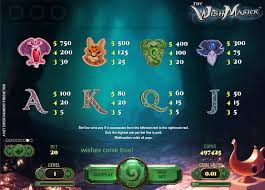 Innsatslinjene i spillet er faste, så det man skal regulere i forhold til innsatsen er myntverdien og innsatsnivået. Myntverdien i spillet kan ligge på mellom 0,01 og opp til 0,50. Innsatsnivået kan ligge på mellom en og opp til 10. Laveste totale innsatsen i en spillerunde kan ligge på 2 kr mens høyeste mulige innsats kan ligge på 1000 kr. Spiller man med en ganske høy innsats så kan man ha sjansen til å vinne den høyeste gevinsten i spillet, som ligger på 900 000 mynter. Hvis man ønsker at spillet skal gå enda litt enklere så kan man bruke bet maks eller autoplay knappen. Bet maks knappen setter innsatsen automatisk til høyest mulig nivå. Autoplay knappen kjører spillet automatisk et visst antall runder, etter at man har regulert innsatsen.
Spille disse online casino
Spesialfunksjoner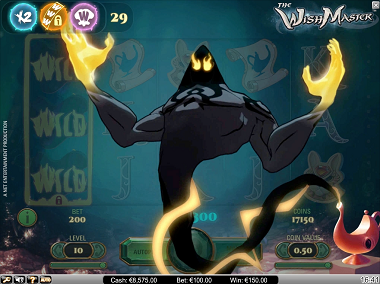 Det er kun en spesialfunksjon i The Wish Master, men til gjengjeld så kan den gjøre utrolig mye underveis i spillet. Det er scattersymbolet som kan regnes som spillets eneste spesialsymbol og det er dette symbolet som kan aktivere de ulike godene man kan få i spillet. Hver gang man får et scattersymbol på hjulene så vil man se at lampen begynner å gløde. Ånden kommer da plutselig ut av lampen og det er han som skal dele ut de ulike godene. Det er helt tilfeldig hvilken gevinst man får, det er nemlig opp til ånden selv. Gevinsten man får kan være en multiplikasjon på to eller tre. Det kan være at man får ekspanderende wilds på hjulene. Det kan være at man får tilfeldige wilds lagt ut på hjulene. Det kan være at wildsymbolene erstatter helt tilfeldige symboler på hjulene eller så kan det være at man får et helt hjul dekket med wildsymboler. I venstre hjørne av spillet så vil man ha et symbol for gevinsten man får, slik at man alltid har en oversikt.