Tema og bakgrunn for spillet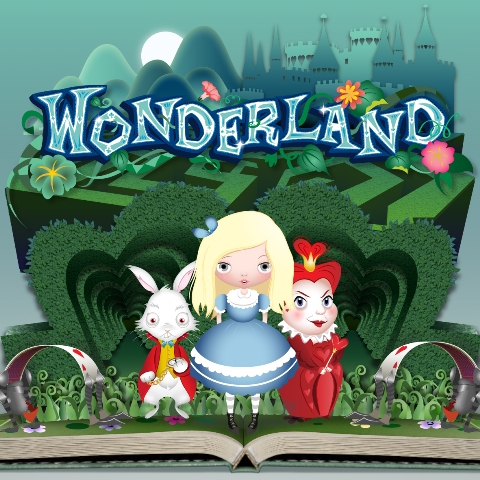 Wonderland er en online spilleautomat utviklet av Ash Gaming og inspirert av barneboken «Alice in Wonderland» (på norsk: Alice i Eventyrland) av Lewis Carroll. «Alice in Wonderland» ble skrevet i 1865, og handler om ti år gamle Alice som følger etter en hvit kanin ned i et dypt hull og ender opp i Wonderland. Her finner hun blant annet mat og drikke som kan få henne til å vokse eller krympe, og hun møter en lang rekke merkelige karakterer, som The Dutchess, The Mad Hatter, The Cheshire Cat og en rekke levende spillekort. Boken har blitt filmatisert flere ganger, blant annet som tegnefilm av Disney. Med hauger av referanser til både karakterer og hendelser i boken, er Wonderland en spilleautomat etter all sannsynlighet vil appellere sterkt til enhver som tidligere har latt seg fortrylle av Carrolls magiske eventyrverden.
Om spilleautomaten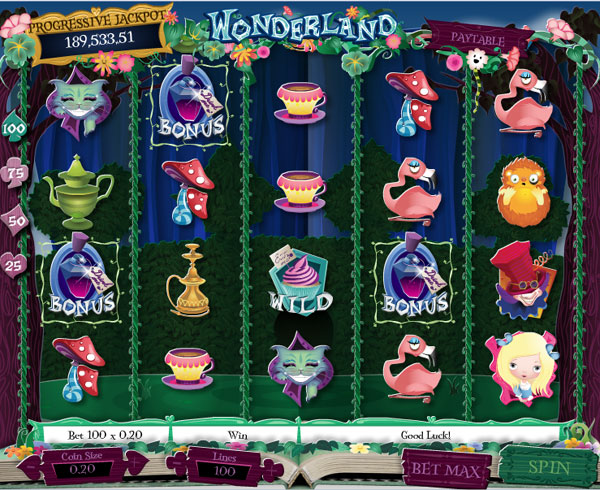 Dette er en spilleautomat med et sjarmerende nostalgisk utseende. Symbolene er alle hentet fra originalhistorien og likner til forveksling illustrasjoner i gamle barnebøker. Du vil kunne kjenne igjen for eksempel The Chesire Cat, The Caterpillar, The Mad Hatter, Alice selv og levende spillekort fra 10 til ess. Spillet har 15 symboler fordelt på 5 hjul og 3 rader. Både myntverdi og antall innsatslinjer bestemmes av spilleren selv; du kan spille på alt fra 1 til 20 innsatslinjer, og myntverdien kan justeres fra så lite som £0.01 og helt opp til £10. Du kan altså satse inntil £200 per spinn. Høyest gevinst gir symbolet med de to vaktene. Hele 1500 mynter er gevinsten for 5 av disse på samme innsatslinje. Med det at du kan ha en relativt høy myntverdi i bakhodet, har du kanskje allerede forstått er Wonderland en spilleautomat som potensielt kan gi deg noen ganske saftige utbetalinger. Også vinnerlinjer med The Cheshire Cat og The Caterpillar kan gi et ganske greit tilskudd på spillekontoen din, ettersom de utbetaler inntil 1.000 og 500 mynter.
Spesielle symboler
Wonderland kommer med både wildsymbol og tre ulike bonus/scattersymboler. Bildet av Alice som er i ferd med å drikke krympedrikken, er wildsymbol og kan erstatte alle symboler med unntak av bonussymboler og scattere. Ikke nok med det, dersom du får 5 Alice-symboler vinner du en jackpot, på 10 000 mynter, eller, avhengig av myntverdi, opptil svimlende £100 000!
Spill på disse online casinoene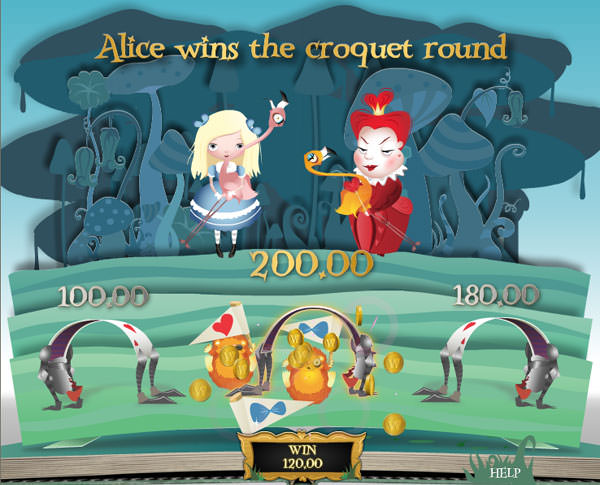 De 2 første bonus -og scattersymbolene er The White Rabbit og The Mad Hatter og vil, hvis du får 3 eller flere av dem hvor som helst på skjermen, utløse hvert sitt bonusspill. Det første bonusspillet er Mad Hatter's Tea Party Bonus, inspirert av kapittelet der Alice drikker te sammen med Mad Hatter selv, Dormouse og March Hare mens disse bombarderer henne med absurde gåter og historier. I bonusspillet serverer du te til en og en av gjestene og spillet fortsetter helt til alle er forsynt. Jo mer de drikker, jo mer vinner du. Skjeen i sukkerskålen er likevel det som gjør Mad Hatter's teselskap virkelig spennende. Dersom en av gjestene putter sukker i teen før de drikker betyr det at du har vunnet den progressive jackpotten! Denne vil variere noe fra kasino til kasino. The White Rabbit trigges Pocket Watch Bonus, der kaninen bruker stoppeklokken sin til å avgjøre hvor mange gratisspinn han skal gi deg. Når dette er avgjort og du har mottatt et sted mellom 7 og 20 spinn, vil han hoppe rundt på hjulene og forvandle symbolene han treffer til «sticky wilds», det vil si wildsymboler som blir værende til bonusspillet er over. Det siste bonusspillet er Rabbit Hole Bonus, som utløses dersom du får kaninhull-symbolet på hjulet i midten. Akkurat som i boken vil da Alice falle ned i kaninhullet og hun vil samle gevinster helt til hun lander. Du kan da vinne mellom 7 og 20 x innsatsen din.
Hva gjør Wonderland verdt å spille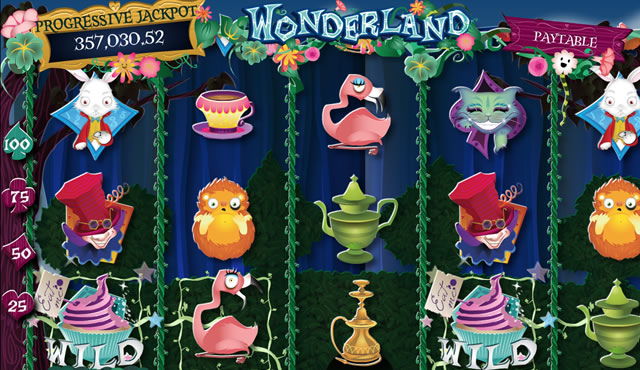 Wonderland er en spilleautomat det er lett å falle for og for den som har vokst opp med Alice i Eventyrland, enten i bokform eller i form av Disneys populære tegnefilm, er spillet virkelig vanskelig å motstå. Utseendemessig dukker det opp flere artige detaljer, som for eksempel at Alice drikker av flasken hun har i hånden og krymper hver gang hun bidrar i en vinnerlinje, eller at hun du ser henne falle ned i kaninhullet under Rabbit Hole Bonus. Muligheten til å satse alt fra £0.01 ti £10 per spinn, gjør at spillet passer for både storspillere og de mer forsiktige, og ettersom du i tillegg kan vinne store beløp i spillets vanlige og progressive jackpot, er dette et spill som anbefales på det sterkeste.