Tema og Grafikk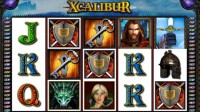 Denne videosloten som kommer ifra Microgaming skal ikke blandes sammen med Excalibur som Net Entertainment står bak. Temaet bak begge disse videoslotene er riktignok akkurat det samme men det er altså snakk om to helt ulike slots her. Xcalibur som er sloten det er snakk om her har et tema som baserer seg på legenden om Kong Arthur, Merlin og selvfølgelig også de andre mytologiske figurene koblet sammen med Kong Arthur. I fokuset i dette spillet så er selvfølgelig sverdet Excalibur, som er det magiske sverdet som bare kunne bli dratt ut av steinen av den riktige kongen, nemlig Kong Arthur. Når Microgaming lanserte denne videosloten så hadde de allerede hatt stor suksess med deres videoslot Avalon, så det er nok en god del som spurte seg selv hvorfor de valgte å skape enda en slot med samme tema. Kanskje Microgaming hadde gått tom for ideer og manglet litt fantasi, eller kanskje de bare ville fortsette den store suksessen de fikk med sin forrige videoslot med dette temaet. For som sagt så går jo både Xcalibur og Avalon på det samme temaet som vil si om Kong Arthur og øyen Avalon, men når en sammenligner disse to videoslots så er Avalon litt mer mystisk mens Xcalibur er en litt mer fargesprakende slot. Dette er virkelig tydelig når en hører på bakgrunnsmusikken som er blir valgt og også lydeffektene som faktisk er ganske så ivrige og passer godt til sloten. De høyest betalende symbolene i denne sloten er selvfølgelig ingen ringere enn Kong Arthur selv, Lady Guinevere, en drage, et skjold og en ridder hjelm. De lavest betalende symbolene i sloten er derimot i form av de høye pokerkortene nemlig A – J og selve Excalibur sverdet er den som har blitt valgt til å pryde Wild symbolet.
Innsatser og Alternativ
Denne videosloten ifra Microgaming består av fem hjul, tre ulike rader med symboler og hele 50 ulike spillelinjer. En kan selvfølgelig justere antallet av disse ulike spillelinjene manuelt men en kan derimot ikke justere innsats nivået og heller ikke myntverdien separat. En velger enkelt og greit hvor mye en vil satse per linje som kan være mellom 0, 01 og opp til 0, 25 i kreditt. Så med det minste mulige innsatsen i denne sloten så kan en altså satse 0, 50 euro på spill og det maksimale verdien på spillelinjen kan en gå opp til hele 12, 50 euro.
Effekter og Spesialsymboler
I videosloten Xcalibur så kan en finne både Wild symboler, Scatter symboler, freespins og også et bonus spill – og det skader heller ikke at antall spillelinjer som er tilgjengelig på denne sloten er hele 50 stykker. Dette er jo alle de vanlige og kanskje ikke så altfor spennende bonus funksjonene som er nevnt her i tillegg til et ganske så unikt og spennende bonus spill, men likevel så holder dette i massevis for å gjøre dette til et underholdende og spennende spill. Wild symbolene i Xcalibur er det som nevnt tidligere her selve Excalibur sverdet som er blitt plukket ut. Dette symbolet kommer stablet opp på hjulene noe som gjør at et helt hjul faktisk kan bli dekket av «jokere». Dette Wild symbolet erstatter også absolutt alle andre symboler med unntak av Scatter symboler og også Bonus symbolet. Scatter symboler i Xcalibur er det trollmannen Merlin som pryder, når han dukker opp på hjulene minimum tre ganger så vinner en en kontantgevinst på mellom 3 og 100 ganger innsatsen og deretter blir det også aktivert freespins moduset hvor en får 12 freespins hvor absolutt alle gevinster multipliserer med x2. Dessverre så finnes det derimot ingen mulighet for å re-aktivere freespins moduset om igjen. Men likevel så viser allerede dette Scatter symbolet at en behøver kanskje ikke alltid så altfor mange ulike effekter og spesialfunksjoner for å få et spill til å bli spennende og underholdende for alle typer spillere.
Bonus symboler her viser en nøkkel sammen med et nøkkelhull, dersom en får tre slike symboler hvor som helst på hjul nummer 2, 3 og 4 så aktiverer en bonus spillet som spilles på sin egen spilleskjerm. Da dukker det opp åtte låste dører som vises og spillerens oppgave er nemlig å klikke på de ulike dørene for å avdekke sine gevinster, en får nemlig også fortsette å klikke på dørene frem til en får opp teksten som viser «innkassere». Gevinstene som en får i bonus spillet er i form av multiplikatorer som kan være på alt mellom x1 og opp til x10 din innsats i det snurret som aktiverte denne funksjonen.